Medical students set for a promising career
LAU celebrates its first residency graduates at the medical hooding ceremony.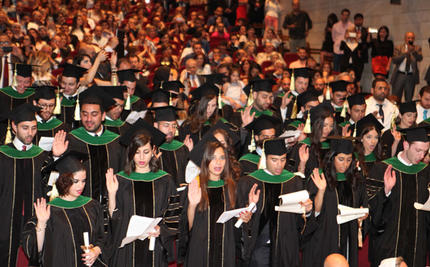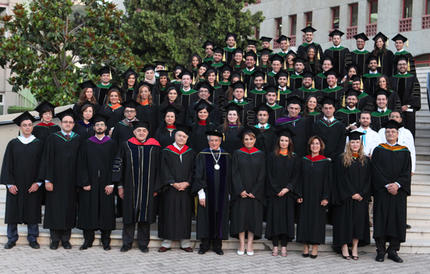 Among the black caps and gowns of this year's graduating medical students, a pair of white coats caught the eye at the hooding ceremony held on June 3 in Byblos as two LAU residents in Internal Medicine stood alongside the graduating class, for the first time ever.
Dr. Zeinat Hijazi, interim dean of the Gilbert and Rose-Marie Chagoury School of Medicine and associate dean for Medical Education, announced their presence with pride before addressing the students in an impassioned speech. "Medical education does not stop at graduation, it starts here," she said. "To be successful you'll have to be life-long learners."
This was not the only achievement to make this year's celebration outstanding. On a total of 12 LAU students applying for medical residency, 11 have been "matched" with the institutions they approached.
Of these, three students were accepted while still in their fourth year of studies―a task that is often hard to accomplish. Thanks to his passion and dedication, Abdo Barakat, a graduating fourth-year student managed to pass the required exam to apply for residency in the States (USLME) and secure an acceptance to Minnesota's Mayo Clinic, ranked one of the best hospitals in the U.S. and his first choice.
"LAU's curriculum is very well structured and geared to meet the needs of those taking the exam in the U.S.," said Barakat. "If you study hard the first two years, it does not take long before you are qualified enough to sit for the exam."
Barakat's success is proof of what can be achieved through perseverance. His junior applications to medical schools in Canada and the U.S. were all rejected. Now, as a graduating medical student, he is about to become part of a top-notch American institution.
"I wish and pray that you join me in making the effort to build a legacy in which we are remembered as physicians who made a change by living love," he urged his fellow graduates.
According to Dr. Sola Bahous, assistant dean for Clinical Affairs, LAU's matching success rate of 92 percent is an "extraordinary result" and exemplifies LAU's ability to prepare its students for leading universities worldwide.
LAU President Joseph G. Jabbra, who presided the hooding ceremony, took the occasion to address graduating students with inspiring words, reminding them of the importance of ethics in their future profession. "The priority for a doctor is not to ask 'what I should do, but who I want to be'," said Jabbra. "Do not allow money to become the end goal, and do not forget for a second that your patient is your sole priority."