"More than an internship"
While interning in Paris with Air Liquide, a major gas and services provider, an LAU computer engineering student modified a tool to optimize the delivery system of the company's products.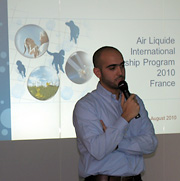 Christian Jr. Oussi, fifth-year computer engineering student, shares his internship experiences with Air Liquide, in Paris, during a presentation at LAU Byblos.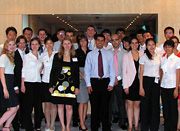 The two-month internship included 25 interns from 18 countries.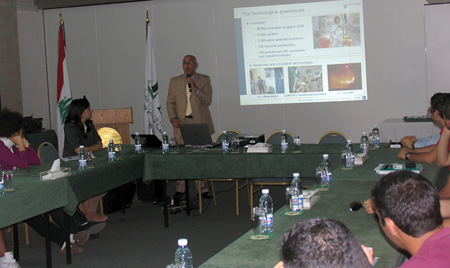 Valentino Boulos, an Air Liquide representative in Lebanon, talks about the company's history during the presentation.
Click on any photo above to view all three images.
Fifth-year LAU computer engineering student Christian Jr. Oussi shared his experiences of a two-month internship program in Paris, France, working with industrial gas and services provider Air Liquide, during a presentation at LAU Byblos on November 19.
Oussi recounted working in teams alongside 24 peers from 18 countries throughout July and August who were tasked with business-oriented missions related to streamlining the sales of Air Liquide products and services.
"When you get there, you realize that you're not there just for an internship. The plan is much larger than that," Oussi told the roughly 30 students who turned out for the presentation, explaining how the experience sets participants on track for a career.
After several weeks with the company, Oussi succeeded in modifying a tool to optimize the delivery system of Air Liquide products. The new tool was adopted by the company's dispatchers around the world.
Impressed with his innovation, Oussi's project manager wrote him a recommendation letter and sent it to the company's HR head with whom Oussi later interviewed for a job.
The company took care of all interns' accommodations including airfare, housing and a generous stipend.
Oussi admits that not all the interns were as privileged to have been put up in a prime living spot in the heart of Paris, noting that others were assigned to work from the Air Liquide office in the southeast city of Grenoble. But in the end, Oussi said, it is what you take out of the experience that matters.
"Not everyone was as lucky as me, but what was really important was learning to work together as a team in a multicultural environment, learning to adapt to new working environments and learning responsibilities," he said.
Oussi heard about the internship opportunity through the Byblos Guidance Office (now re-structured to be part of the Dean of Students Office) and applied online. Three weeks later, he got a call from a company representative interested in an interview.
Elie Samia, former director of the Byblos Guidance Office who now acts as the executive director of the Outreach and Civic Engagement unit, and Rana Sakr, career guidance officer in Byblos, coached Oussi as one interview turned into several with Air Liquide officials in France and Lebanon, leading to his selection to the program.
After his selection, Oussi discovered exactly how competitive the internship had been. Of the 250-300 students from several universities in Lebanon that had applied for the same program, only Oussi and one other student from the American University of Beirut were accepted.
"We didn't make our selections based on grades alone," says Valentino Boulos, the Air Liquide representative in Lebanon who was tasked with choosing the students, explaining that involvement in extracurricular activities played a large factor in the company's decision.
"If they have a high GPA, it doesn't mean that they would make a successful candidate," Boulos says. "We need to know how they work in teams, in different environments, these are all important factors."
Aside from his strong academic background, Oussi is the current chair of the Institute of Electrical and Electronic Engineers at LAU. He was also voted computer representative in the student affairs committee in 2008.
Oussi says he considers the experience of working with students from top universities such as MIT, the University of Tokyo, the University of Texas and Sweden's Lund University an achievement for both him and LAU.
"It's thrilling to see students gaining hands-on experience doing the work they love, especially when it takes them to places as exciting as France," Sakr says. "I hope Christian's story inspires others to work hard and follow their passions."
The November 19 event was part of a series of recruitment presentations organized by the Dean of Students Office in Byblos. Each semester, the office invites over a dozen representatives from high-profile companies to speak about the different job opportunities available throughout various industries.