New book by LAU dean explores masculinity in Arab literature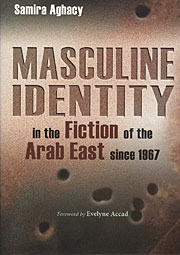 Masculine Identity in the Fiction of the Arab East Since 1967, by Dr. Samira Aghacy, dean of LAU's School of Arts and Sciences in Beirut, was published by Syracuse University Press in November 2009.

Aghacy will sign her book on January 21, 5:00–9:00 p.m., at City Café, Sadat Street, Hamra.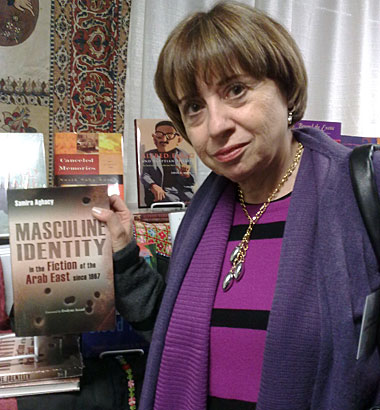 Aghacy launched her new book during the annual conference of the Middle East Studies Association held in Boston in November 2009.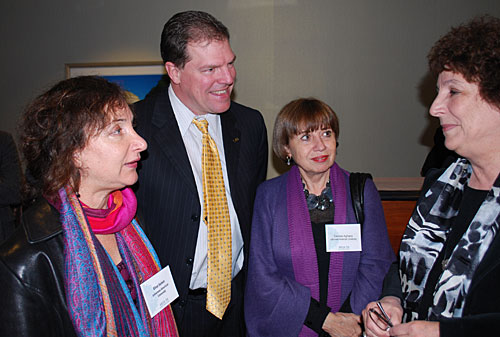 Aghacy (3rd from left) at the reception organized by LAU's New York Office as part of the MESA '09 conference. From left: Dr. Elise Salem, vice president for Student Development and Enrollment Management, and Richard Rumsey, vice president for University Advancement, with an attendee.
Click on any photo above to view all four images.
January 14, 2010—
While Western scholars and media notoriously scrutinize the role of women and feminine identity in Arab literature and culture, one LAU professor published a groundbreaking new book exploring masculinity and male identity in Arab literature over the past four decades.
Dr. Samira Aghacy, professor of literature and dean of the School of Arts and Sciences in Beirut, recently published Masculine Identity in the Fiction of the Arab East Since 1967, which examines masculinity in Arab literature from Lebanon, Jordan, Palestine, Syria and Iraq since the historical and geographic turning point for the region when it went to war with Israel in the Six-Day War In 1967.
"Very little has been written about men in the Middle East. Everyone has been focusing on women," says Aghacy, adding that she hopes her book generates more research on men in the Arab world.
The significance of the year 1967 in Arab politics was her reason for choosing the starting date for the books she analyzed. "1967 is a watershed, I think, in the history of the Arab world … That period changed the way the Arab world looked at politics and, in my opinion, clarified the way men looked at themselves," she explains.
In her book, Aghacy explores texts originally written in Arabic. "I made a point of working on literature written in Arabic to acquaint the Western reader or the reader who doesn't read Arabic with these works of fiction that I think are important and I think are being overlooked or neglected by critics in general," she says.
The book is about masculinity, sexuality and politics. Throughout the four-chapter book, Aghacy analyzes different types of men in various societies and the eventual fragmentation of their identities: the "traditional" man — tough, assertive and oppressive; the romantic hero — especially in Palestine; men living in the context of dictatorship; and men living in Lebanon during and especially right after its civil war, with shifting gender roles.
Having been interested in feminist theory for a long time and also having written for and edited IWSAW's landmark publication, the quarterly journal Al-Raida, from 2000-2003, Aghacy realized that Western feminism puts a lot of blame on men and projects women as victims, especially in the Arab world, where women are seen as veiled and kept within the parameters of the house, she explains.
Aghacy's personal experiences during the Lebanese Civil War were an inspiration for her interest in the topic of masculine identity. During the war, she explains women were better able to move around and carry out duties outside the home — such as grocery shopping — than men. And while that was empowering for women, it oppressed the freedom of movement of men. "I noticed that men were really victimized — [although] not in the same manner. They are not really oppressors," she says.
"The idea that Middle Eastern men are terrorists and killers may apply to a minority of men, but the majority are not like that," adds Aghacy.
Aghacy joined LAU in 1986 as an associate professor and was promoted to full professor in 1993. She has taught English and comparative literature courses, and also served as chairperson of the Humanities Division. She is a member of several professional organizations including the Middle East Studies Association (MESA), Modern Language Association (MLA), British Society for Middle Eastern Studies (BRISMES) and Association of Professors of English and Translation at Arab Universities Arab (APETUS).
Prior to LAU, Aghacy was at the University of Jordan as well as the Lebanese University, where she was chair of the English Department for three years.
Aghacy obtained her Ph.D. in English literature from Exeter University in the U.K., but began studying Arabic literature while living in Lebanon during the Civil War, as it was difficult for Lebanese scholars at the time to compete with Western scholars due to a lack of access to research and information. As Arabic literature was more readily available, Aghacy was drawn to it, marking the beginning of literary explorations of male identity.
Reflecting on her book, Aghacy is pleased — "I feel that I have made a contribution in this particular field and I think I've opened up areas for other people to build on what I've done," she says.
Masculine Identity in the Fiction of the Arab East Since 1967, by Dr. Samira Aghacy, was published by Syracuse University Press in November 2009. A book-signing event will be held on January 21, 5:00-9:00 p.m., at City Café, Sadat Street, Hamra.