NGO talks to LAU students about tackling corruption in Lebanon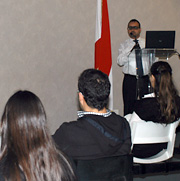 Atallah Al-Salim, a researcher from the Lebanese Transparency Association, tells the audience where Lebanon stands on corruption.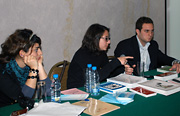 Representatives from LTA and LAU's student-led International Affairs Club that organized the event take questions from the audience.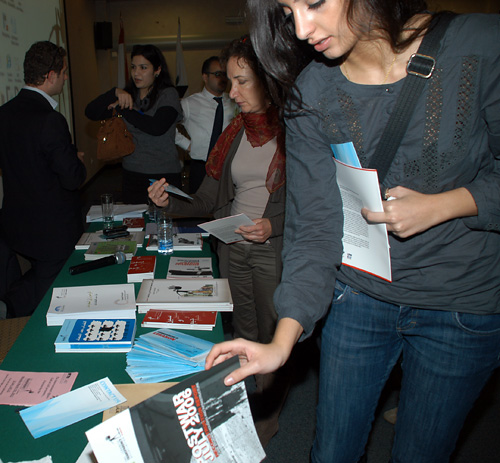 Attendees scan LTA's publications on its anti-corruption projects.
Click on any photo above to view all three images.
March 10, 2011—
LAU's student-led International Affairs Club hosted a lecture by representatives of the Lebanese Transparency Association, a non-governmental organization dedicated to tackling corruption, at LAU Beirut on March 7.
LTA, Lebanon's chapter of Transparency International, a global anti-corruption non-profit organization, presented where the country stands on corruption and the challenges that face the implementation of anti-corruption mechanisms to an audience of students and faculty members.
According to Transparency International's 2010 Corruption Perceptions Index (CPI) results, which evaluate a country's degree of corruption on a continuum from zero to a perfect 10 (zero being the most corrupt), Lebanon's score was 2.5 over 10, said LTA researcher Atallah Al-Salim. Lebanon ranks "127 out of the 178 countries and its regional position is 13th out of 22," he added.
The absence of certain protective laws has contributed to the upsurge of corruption in the country, according to the association.
A study done last year by the organization revealed that "as a matter of fact, no anti-corruption national strategy exists in Lebanon," said Al-Salim.
Steps to reduce the degree of corruption in Lebanon have been taken, however, starting with the government's ratification of the United Nations Convention against Corruption in April 2008 and the attainment of UNCAC membership status the following year.
"Following the ratification of the convention, it will be necessary for the party state to either amend existing laws or enact new legislation which are consistent with the convention," Al-Salim told the audience.
LTA senior researcher Dani Haddad, who also spoke at the event, pointed out that anti-corruption efforts have been revitalized following the government's failure to allocate a national budget between 2005 and 2010.
"Fighting corruption, especially in public administration, needs new initiatives," Al-Salim said. And NGOs such as LTA have been trying to enforce the introduction of fresh laws.
Several national and foreign organizations have recorded considerable success; the Center for Constitutional Rights was able to bring forth significant changes ahead of the 2008 Lebanese parliamentary elections.
"CCR, through its outreach and media campaign, was able to enforce several amendments to the electoral law of 2008," Al-Salim said.

But Al-Salim maintained that the government has not been assisting NGOs in their efforts to fight corruption.
"No effort has been made whatsoever to consolidate all legislation in one package and the laws cannot be found on the government's official websites," he said.
Yet Al-Salim remains upbeat about the role of civil society in reshaping the anti-corruption laws.