Nursing health fair puts prevention before cure
LAU nursing students conduct free medical tests in Byblos to raise awareness of the importance of an early diagnosis.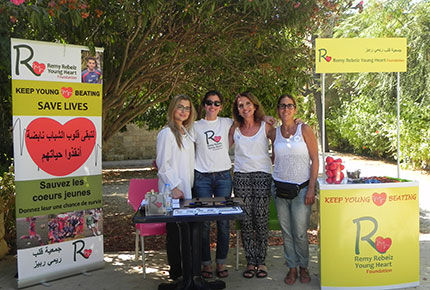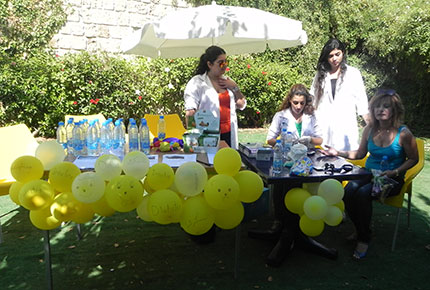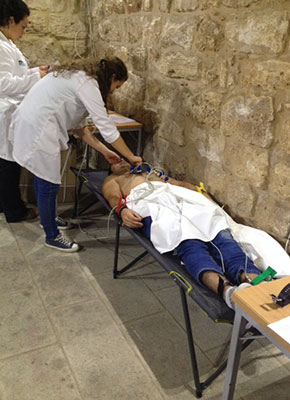 LAU's Alice Ramez Chagoury School of Nursing (ARCSON) students dedicated their time and expertise to the Byblos community last Friday, organizing a health fair aimed at raising awareness of the importance of regular checkups. Each booth offered free-of-charge services, including electrocardiograms, the measurement of oxygen and glucose levels in the blood and the calculation of body fat percentage.
The strongest message in favor of prevention came from Sylvia Rebeiz, funder of the Remy Rebeiz Young Heart Foundation, which partnered up with LAU to offer free electrocardiograms (EKG), a test able to detect heart diseases. Her son, a healthy 20-year-old football player, died of an undiagnosed genetic heart condition in March 2013.
"Don't think you are healthy, because you never know," says Rebeiz. "The EKG takes five minutes and could save your life." Since its launch in January last year, her foundation identified four critical cases, one of which was an LAU student and an athlete himself.
This message stuck with Charbel Harb, one of the participants at the health fair who underwent all the offered medical checkups. Despite still being in his university years, Harb "understood that even young people can have health issues," he says. "If I have any I prefer to know in advance."
According to Mira Abi Saad, clinical instructor at ARCSON and organizer of the event as part of her taught course in community nursing, many of the people who participated in the health fair had never taken even the most basic tests. "They come full of misconceptions and we try to make them leave with a clearer picture in their minds," she says, remarking on the dangerous shortage of community nursing services in Lebanon. "If we put the same effort in prevention as in curing the disease, we will have less patients and a less expensive health system."
Breast cancer remains a taboo topic for most women in Lebanon, making prevention harder than ever. With this in mind, one of the booths gave women the necessary information on how to perform breast self-examination. Student Nura el Touki spent her day demonstrating the two-minute procedure that could detect cancer at its very early stage and informing women of the possibility of conducting a free-of-charge mammography in hospitals around the country during the months of October and November.
"I feel women do not do it because they are afraid to discover that they have cancer," says el Touki. "That's why it is important to be among the people and convince them that it is better to know things at the earliest possible stage," she adds.
A number of sponsors, including Barakat, Al Rifai and Sohat, supported the health fair by offering their products to distribute at the various booths advocating the importance of a healthier life-style. Graphic design and montage company UR Design also contributed to the booths' set up.
For LAU nursing students enrolled in the final year of their studies, direct engagement with the community is what gives meaning to their profession. According to Ahmad al Haj, a senior LAU nursing student, volunteering in such events is a necessary part of the profession, during student years as well as later on. "Awareness is the first step to primary prevention," he says. "I feel like I did something important today."