Nutrition program hosts conference of Lebanese food scientists
Conference held in collaboration with LAFST examines the preparation, treatment, sale and governance of food products in Lebanon.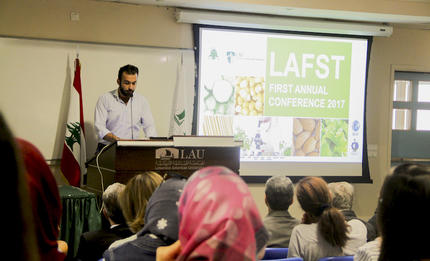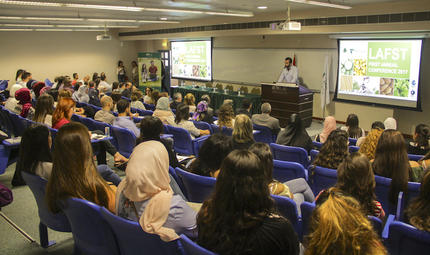 Dozens of researchers and practitioners specialized in the field of food science gathered at LAU at the end of last month for the first annual conference of the Lebanese Association of Food Scientists and Technologists (LAFST) ― an event that paid tribute to its late founder and leading food scientist, Raja Tannous. Also in attendance were students of LAU's nutrition program who took the opportunity to learn from the many case studies presented and discussed.
Over two full days, no less than 25 specialists set forth their perspectives, experiences and research findings in relation to the preparation, treatment, sale and governance of food products. Among them was Hussein Hassan, LAU assistant professor of food science and technology, who worked in partnership with LAFST to bring the conference to fruition.
In addition to hosting the event, Hassan and his colleagues at the department of Natural Sciences reviewed the many abstracts submitted by academics and industry specialists wishing to speak at the conference. "LAU has a strong reputation for organizing such initiatives and our nutrition program is highly involved in outreach," said Hassan, explaining why it was natural for LAFST to approach LAU about hosting its first conference.
Indeed, in recent months the nutrition program hosted a conference about celiac disease that invited medical experts and the public to address allergies and alternatives, and a gathering of healthcare experts to discuss interprofessional care.
The LAFST conference should, however, be held at a different university each year in order to help "bridge the gap that exists between academia and industry," suggests Hassan. Indeed, the development of research projects that are of interest to academic institutions — which in Lebanon have limited research budgets — and of benefit to industry, where research and development departments are scarce, was the impetus behind the conference.
"This association was founded to connect universities, food industries and agricultural producers," said LAFST board member Oussama Dimassi, stressing the importance of the conference and his appreciation to LAU for hosting the event. "Partnerships between universities and industry are crucial," added Mounir Bissat, secretary general of the Syndicate of Lebanese Food Industrialists. "Our focus thus far has been on food safety, certainly a top priority, but we must also work together to enhance our ability to ensure sustainable food security and diversify exports."
Hassan agrees, noting that Lebanon's export-oriented food sector is feeling the impact of the regional crisis and could do well to diversify. "Our exports are predominantly ethnic and targeted at Lebanese and Arab consumers abroad. We should start considering developing products that target a more general market."
A senior expert in the Quality Unit of the Ministry of Economy, Hassan has a diverse research portfolio that includes projects and surveys focused on identifying and preventing the occurrence of toxic residues in foods manufactured in Lebanon. His presentation at the conference centered around a recent study into mycotoxins and heavy metals found in breast milk, which was published in the U.S.-based prestigious Journal of Food Protection. "Food directly impacts the wellbeing of all people and so our research and recommendations, when adopted by ministries, are beneficial to the end consumers and the population at large."