Out of this world
Dr. Charles Elachi, NASA scientist behind the groundbreaking Curiosity landing on Mars, speaks at LAU and receives honorary Doctorate in Humane Letters.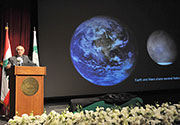 Dr. Charles Elachi delivering his lecture.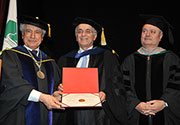 LAU President Dr. Joseph G. Jabbra and Provost Dr. George K. Najjar bestowing the honorary Doctorate in Humane Letters.

Elachi speaking to LAU's Astronomy Club about the exciting career opportunities in space.
Click on any photo for larger version.
For a man who passes his days exploring the deepest depths of the solar system, Director of NASA's Jet Propulsion Laboratory Dr. Charles Elachi is remarkably down to earth.
Overseeing major space voyages to a number of stars and planets, Elachi has spent the last four decades quite literally staring into space. Earlier this year he played an instrumental part in the groundbreaking landing of the high-tech rover, named Curiosity, on Mars. The landing is perhaps the most important breakthrough since Apollo touched down on the Moon and was witnessed live by 50 million people in the U.S. alone. But Elachi insists he shares the same responsibilities, like buying the groceries or mowing the lawn, as the rest of us earthlings.
On Friday, Elachi brought a little bit of ethereality to LAU, where he delivered the lecture "Curiosity: the challenge and excitement of landing on Mars." His talk was followed by LAU bestowing upon him an honorary doctorate in Humane Letters in recognition of his extraordinary contributions to science.
Welcoming a guest audience that included senior army officials and Education Minister Hassan Diab, LAU President Dr. Joseph G. Jabbra extended an enthusiastic welcome to a man he said "needed no introduction." With over 230 scholarly articles and three major books under his belt, the principal developer of "a roadmap for exploration of our solar system" was an enduring source of inspiration to citizens across the world, Jabbra said.
Born and raised in the quiet Bekaa village of Riyaq, Elachi left Lebanon for France aged 16. He received a Master's and Ph.D. in electrical sciences from the California Institute of Technology. An avid learner, he went on to earn a second Master's degree in geology and an M.B.A. Forty years later, he still calls California home but spends his days traveling the solar system. He might work long hours but remarked, "It doesn't feel like" work. "I learn something new everyday and I absolutely love what I do."
No dream is too big, Elachi said. The landing of Curiosity was the result of a decade of painstaking teamwork. "It's amazing what humans can accomplish when they use their vision and ambition to accomplish something together."
Speaking on behalf of the student body, Georges Ayoub, under-secretary general for Public Information at LAU's Model United Nations, said the work of space explorers like Elachi was proof that the sky was no limit to ambition. "It reminds us that deep inside each and every one of us resides the potential for greatness," he said. "A potential nourished though constant learning, both inside the classroom and outside of it, and a concept that is engraved in the foundations of this very institution (LAU) to which we all belong."
Elachi's accomplishments are as starry as the sky itself. In 2010, the LAU Board of Trustees member received France's coveted Chevalier de la Légion d'Honneur award. In 2011, the Space Foundation decorated him with its highest honor, the General James E. Hill Lifetime Space Achievement Award. He is the recipient of the Royal Society of London's Massey Award, Lebanon's Order of Cedars, the American Task Force for Lebanon's Philip Habib Award for Distinguished Public Service, and several NASA awards. In 1989, 'Asteroid 1982 SU' was renamed '4116 Elachi' in recognition of his contribution to space and planetary exploration.
Earlier on Friday, Elachi, who is also a professor of electrical engineering and planetary science at Caltech, spoke to LAU's Astronomy Club about the exciting career opportunities in space. He himself began his career at JPL when he was still a student. But even for those whose passions don't lie in science, Elachi had this advice: "It doesn't matter what you are studying, what is important is that you do it with passion, do it well, and have a high degree of integrity… Everybody has something unique that they can contribute to society. Make sure you always remain curious. Anything is possible in this world."
Perhaps in other worlds, too.