Oxford's Rhodes Scholarships now open to LAU students
One of the most prestigious international fellowship awards to be granted to two students from the Levant.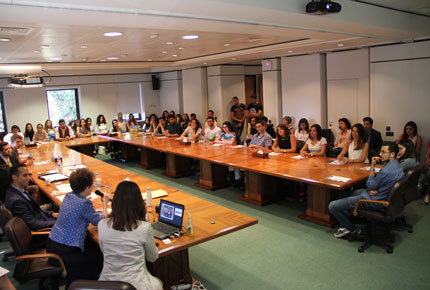 For the first time, students from Lebanon, Syria, Jordan and Palestine will be able to apply for the Rhodes Scholarships, a postgraduate award supporting outstanding all-round students at the University of Oxford.
A delegation of six representatives visited LAU on May 27 to present the trust and invite its students to apply.
"Having people from the Middle East will contribute hugely to the diversity and richness of the University of Oxford," says Mary Eaton, who oversaw the career of over 1,200 students as Oxford director of scholar affairs and registrar at the Rhodes Trust.
The trust, now in its second century of operation, offers one of the oldest and most celebrated international scholarships in the world. Aside from demonstrating a remarkable academic proficiency ― a GPA of 3.8 is the average requirement ― a Rhodes Scholar must also possess leadership aptitude, dedication to the service of others and outstanding moral qualities.
"We want to see that you have a cause, that you are impatient with the way things are in the world and want to make a positive change," said Liliane Chamas, regional strategic advisor for the Rhodes Trust, in her address to LAU students. A former Rhodes Scholar herself, Chamas is working to establish and promote the scholarship in the Middle East.
Applications can be submitted from July 1 until September 30, after which candidates will be interviewed by a selection committee. This year, two students from the region will be among the 95 students selected in the 36 participating countries.
"We see the value of additional cultural diversity in our cohorts of scholars every day: They learn from each other in profound ways, leaving behind the narrow interests of individual nations," says Charles Conn, CEO of Rhodes House. "The new Rhodes scholars will contribute significantly through sharing their skills, knowledge and energy with their peers at Oxford, and we look forward to welcoming them to Rhodes House," he said.