Peace activist receives Unsung Hero Award for community work
Melhem Khalaf, co-founder and secretary-general of Offre Joie, a peace-advocating organization, won IPJE's 2008 Unsung Hero Award.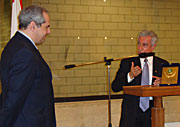 LAU President Joseph Jabbra gives the award to Offre Joie co-founder Melhem Khalaf.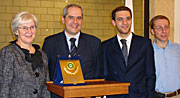 IPJE Director Irma-Kaarina Ghosn (1st from left) and Khalaf (2nd from left) with friends who nominated him.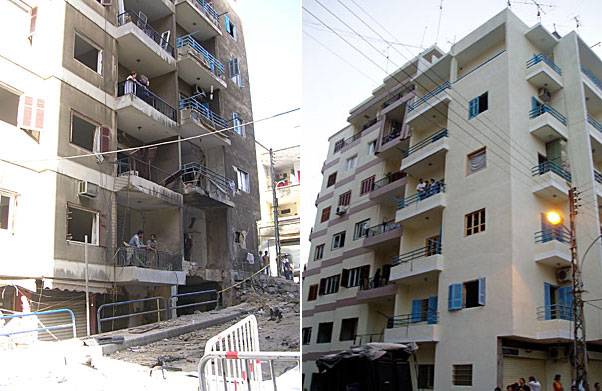 The building in Jeitaoui, Ashrafieh, damaged by a bomb on September 16, 2005, before and after renovation by Offre Joie volunteers.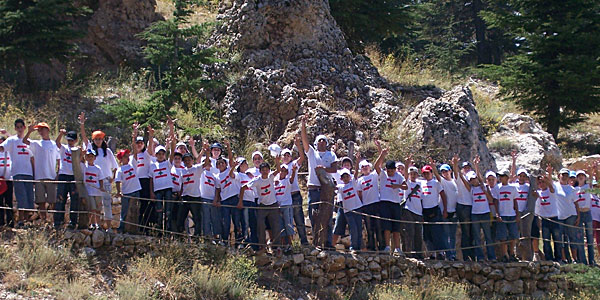 Children from regions all over Lebanon united in one of the Offre Joie peace camps.
Click on any photo above to view all four images
Love, respect and forgiveness have guided Melhem Khalaf for over 25 years of community service. The same principles brought him the 2008 Unsung Hero Award of LAU's Institute for Peace and Justice Education on November 25.
Khalaf, co-founder and secretary-general of Offre Joie, a peace-advocating organization founded in 1986, accepted the prize of $6,000, offered by an anonymous sponsor, on behalf of over 200 volunteers working for the foundation.
"It took him two weeks to decide whether he should receive the award or not. Only when he was told that he could give the money to his organization did he say 'yes,' " IPJE Director Irma-Kaarina Ghosn said. According to her, Khalaf is the very example of an unsung hero, a dedicated and modest person who works quietly in order to bring peace and mutual understanding in Lebanon.
Khalaf started as a volunteer for the Lebanese Red Cross. In 1985, in the middle of the civil war, he and his friends organized the first Peace Camp that gathered 100 children from all over the country. The aim was to teach them how to live together for 17 days despite their diverse backgrounds. This initiative, which continues to date, attracted French donors and a year later was institutionalized through the creation of Offre Joie.
The organization has held demonstrations for peace, and has also been involved in reconstruction activities—rebuilding schools, refurbishing prisons, helping people in poor neighborhoods.
"Lebanon is a message, not only for itself, but also for the world. It's a country where many civilizations meet," Khalaf said. "We need to engage ourselves in civil society to solve the problems, the real problems [facing the Lebanese people], and not to give up in front of the obstacles, not to give up hope," he added.
Lebanon needs more people like Khalaf, Ghosn said. She believes that the recognition he and other community workers receive from IPJE could inspire Lebanese youth to become active participants in the development of their homeland.
According to Ghosn, there are many people, even young ones, who deserve recognition because of their outreach efforts. "We have some of our own students who just graduated and who are active in community building," she added.
The idea of unsung heroes awards is not new. It is quite popular in the United States and Great Britain and even CNN announced its top 10 heroes for 2008 recently.
The person who thought of bringing it to Lebanon was LAU's president, Dr. Joseph Jabbra. "He came up with the idea because he has a strong commitment to giving back to the community," Ghosn said.
---
Read a previous story on the award.