Pharmacy student develops award-winning blood donor database
An ingenious charitable idea by Yorgui Maurice Teyrouz won an award for Youth Innovation and Achievement from Jordan's King Abdullah II.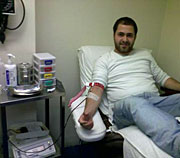 Yorgui Maurice Teyrouz donating blood at Rizk Hospital, Ashrafieh.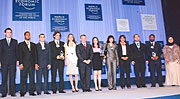 Award for Youth Innovation and Achievement finalists with King Abdullah II and Queen Rania of Jordan (center). Teyrouz is third from right.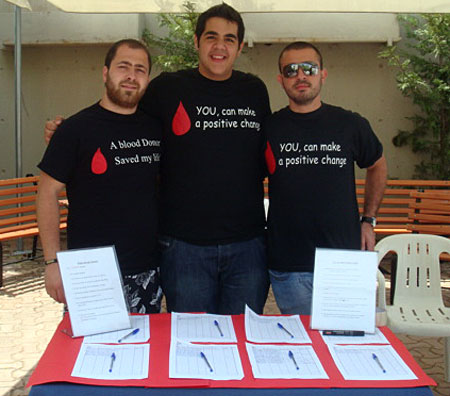 LAU students involved in Donner Sang Compter at an awareness-raising stand on LAU's Byblos campus. From left: Teyrouz, Emil Mouawad and Vincent Fayad.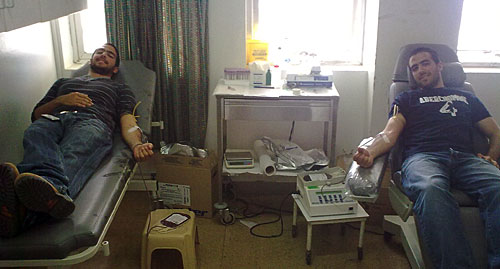 LAU students Tony Khairallah and Thomas Khairallah donating at Notre Dame des Secours Hospital, Byblos.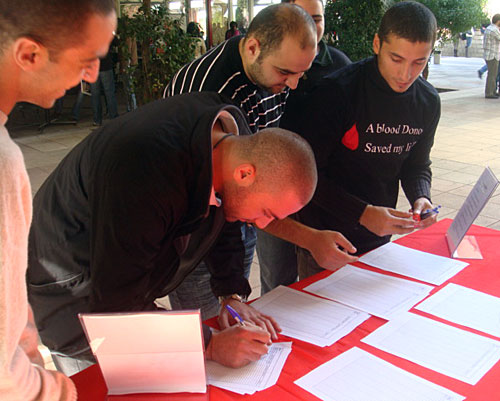 Students signing up their names to register in the database at Notre Dame University, December 18-19, 2008.
Click on any photo above to view all five images
An ingenious charitable idea by an enterprising LAU pharmacy student — to create a blood donation database sourced by nationwide volunteers — won one of 10 prestigious $50,000 awards for Youth Innovation and Achievement from King Abdullah II of Jordan on May 17.

Despite still being a full-time fourth-year undergraduate student, Yorgui Maurice Teyrouz, 23, has meticulously created a database of voluntary blood donors.

In this database he catalogs donors with their blood types and their location in Lebanon. When in need, people contact him and he is able to put them in contact with several donors of their blood type in their own area.

Ingeniously, Teyrouz runs this entire operation from his mobile phone.


Heartfelt beginnings

As a member of the scouting movement and aspiring science student in his late teens, Teyrouz had a curiosity toward people's blood types, often noting them down.

After volunteering in the Red Cross in 2003, he learned how much of a need there is for blood. The Red Cross relies on what he describes as "random donations," which he says is why they cannot always respond to all the blood demands.

Teyrouz became more aware of blood shortages when a close friend's grandfather needed a blood transfusion and the hospital he was admitted to could not provide the proper blood type which was the rarest one: AB negative. A frantic search ensued as friends, relatives, teachers, and coworkers were contacted for their support.

"I was 19 at the time, and on a small scale I had already started the database," he says. "In my existing database, I had only two AB- donors who were able to donate two units of blood, but his grandfather needed five units and he died because he wasn't able to get enough."

"After he died I realized how much there is a shortage of blood donors, and I was directly inspired to make a change," Teyrouz says.


Electronic empire

Teyrouz has also built a fast-growing network of voluntary blood donors on Facebook through the group Donner Sang Compter, created in early 2007. He runs it with six friends of which four are LAU students.

The group's French name means "to give without seeking anything in return," but is also a word play as sang in French means blood.

Teyrouz, who is also president of the First Aid Club at LAU-Byblos, says the cause grew extremely fast once the Facebook group started and students from other universities started contacting him.

"Everybody was telling me their blood types and I started to compile them all on an Excel sheet," explains Teyrouz. "Through the help of these people, I managed to get the permission to put up stands in the major universities [of Lebanon] to recruit more blood donors and raise awareness about the importance of blood donation."

Teyrouz has put the Excel sheet on his cell phone. "I can address any inquiries or requests immediately. It's very quick," he says.

"The biggest proof of responsible citizenship is to serve someone you don't know," he adds.

The other LAU students working with Teyrouz on Donner Sang Compter are: Jules Sassine, 21, fourth-year mechanical engineering; Tarek El Khazen, 20, first-year international affairs; Vincent Fayad, 22, third-year architecture; and Emil Mouawad, 20, third-year architecture.

Product specialist Samar Khoury, 25, who holds a master's in biology from AUB, and Ralph Sawaya, 20, a chemical engineering student at the University of Balamand, are also part of the group's committee.