Pharmacy student society celebrates outreach achievements
NAPHASS members presented the activities they held this year and next year's calendar of events at a dinner.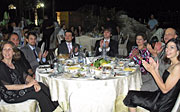 LAU pharmacy faculty members with Dean Farid Sadik (2nd from right) at the NAPHASS dinner.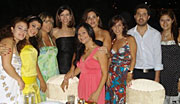 B.S. students with Dr. Aline Saad (4th from left), LAU clinical assistant professor and NAPHASS coordinator.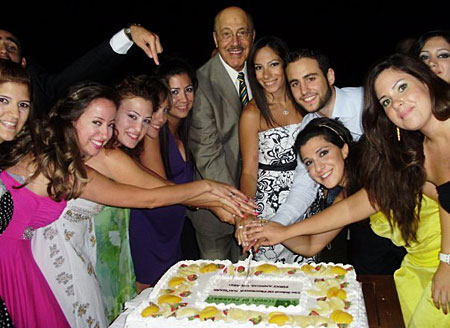 Pharmacy students cutting the cake with Dean Sadik. Student Lama Kheir, who was awarded the Distinguished Leadership Award for the year, is to Dr. Sadik's left.

Pharmacy faculty members and students compete in a general-knowledge quiz.
Click on any photo above to view all four images
The No Apathy Pharmacy and Health Awareness Student Society held its first annual dinner on June 27 to celebrate student achievements in both learning and volunteering at community outreach events organized by NAPHASS over the year.

The dinner attracted 100 students and faculty at the scenic seaside restaurant BAY 183 in Byblos.

The event aimed "to give students positive reinforcement so that they continue participating," says Dr. Aline Saad, clinical assistant professor at LAU's School of Pharmacy and NAPHASS coordinator.

"What we're trying to do with NAPHASS is show the culture of service learning which is a type of experiential learning where the students learn through serving others," Saad explains.

"The good thing about service learning is that it promotes patient-centered care which is at the core of our pharmacy education," she adds.

Over the past year, NAPHASS held awareness campaigns at LAU and at local schools to talk to students about poison prevention, cancer prevention, and the risks of smoking. NAPHASS member students also visited nursing homes and a children's cancer center.

Saad explains that each of the NAPHASS community activities was planned with different patient populations and their various needs in mind. They taught pharmacy students how to establish a relationship with patients so they can communicate their needs effectively. The visits also helped students understand and appreciate diversity in Lebanon's communities and further develop a sense of social responsibility as well as heightened civic awareness.

At the dinner, fourth-year LAU pharmacy student Lama Kheir was awarded the Distinguished Leadership Award for the year, recognizing her enthusiasm and dedication to the success of NAPHASS events.

"This is not just our major, but community service work teaches us how to deal with people and what we study in real life, and we really enjoy that," says Kheir. "Community work in the School of Pharmacy is as important as the academic side."

The evening started with welcome notes given by Dean of the School of Pharmacy Farid Sadik and Dr. Saad who emphasized NAPHASS's goals and objectives.

Students provided reports on various events and visits they made, including the pharmacy weeks on LAU's Byblos campus; visits to nursing homes in El-Koura and Dhour El Choueir as well as the Children's Cancer Center of Lebanon in Beirut; and poison prevention efforts at the International School of Choueifat.

At the dinner, which is planned to become an annual event, NAPHASS also launched next year's calendar of events that includes community awareness campaigns on osteoporosis, vaccinations, drug abuse, cancer screening, and chronic disease management such as diabetes, hypertension and dyslipidemia.

Highlights of the evening's entertainment included a talent show with live song and music performances by four students, and a students-versus-faculty general knowledge quiz that ended in a tie.