Financial aid receives philanthropic boost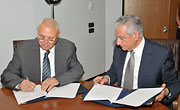 WJF Secretary-General Colonel Charif Fayad and LAU President Dr. Joseph G. Jabbra signing the merit and need-based scholarship agreement.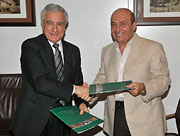 Hoping that his scholarship recipients would in turn repeat the good dead, Kamil Sarieddine established a grant to support six needy students each year.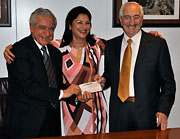 Rima and Amal Hourani's schoarship will cover the tuition costs of five Palestinians from Lebanon's refugee camps planning to study nursing at LAU from matriculation through graduation.
November 23, 2011—
In late October and early November, LAU signed agreements with philanthropic individuals and organizations to create a number of new scholarships for talented prospective students in need. The new scholarships will become available in fall 2012.
On October 28, the Walid Jumblatt Foundation for University Studies (WJF) established a merit scholarship fund, which will support several LAU students each year for the duration of their degrees. The foundation will rely on LAU's own policies to select the best candidates for the scholarship, with the sole requirement that students be chosen based on merit and need.
"The best investment we can make is in our youth, because they are the future," said WJF Secretary-General Colonel Charif Fayad in a signing ceremony attended by LAU President Joseph G. Jabbra and other university officials.
Founded by Lebanese politician Walid Jumblatt, the foundation has annually provided scholarships for a wide range of students studying at Lebanese universities. WJF's funding comes from Jumblatt and other generous donors.
"We deal with many universities in order to help as many students as we can," Fayad explained.
"We hope that students will be market-oriented even as they enter the university, so they can find the career path that best suits their interests and skills," he added. Fayad pointed out that WJF is committed to the development of Lebanon's education sector and to preparing Lebanese youth for career success.
One week later, Kamil Sarieddine, managing director of UAE-based Sarieddine Trading Establishment, established a scholarship grant in his name to support six needy and deserving students each year for the duration of their time at LAU.
"The greatest thing one can learn is to give to those less fortunate," said Sarieddine in a meeting with Jabbra and other university officials on November 4, when the grant was officially announced.
In his remarks, Sarieddine suggested that philanthropy is a civic duty, and not only for society's wealthiest citizens.
"You do not have to be a billionaire to give, especially if it is toward education," he said. "One day, I hope to see the students who are receiving financial support repeat the good deed that was done for them."
Also on November 4, Rima and Amal Hourani announced that they will support five Palestinians from Lebanon's refugee camps planning to study nursing at LAU. The scholarships will cover tuition costs from matriculation through graduation.
In a meeting with Jabbra and other university officials, Mrs. Hourani described nursing as a profession that will always be in high demand.
"Today's nursing graduates will be able to find work and heal people anywhere in the world," she said, citing the shortage of nurses both in Lebanon and abroad.
During their campus visit, the Houranis also announced that they will provide a number of additional scholarships beginning fall 2012 for matriculating nursing students from Mr. Hourani's hometown of Marjeyoun.
Regarding their steadfast support for LAU and for students in need, the Houranis cited Gibran Khalil Gibran's words from The Prophet: "You give but little when you give of your possessions. It is when you give of yourself that you truly give."
Both Sarieddine and the Houranis are longtime friends of the university. Sarieddine first became an LAU supporter in 1994, when he established an annual scholarship fund in the name of his father, Jamil Sarieddine. Mrs. Hourani, a Palestinian alumna of BCW and a regular donor to LAU, has established several scholarships for Palestinian students over the years.
The WJF and LAU are actively exploring opportunities for further collaboration.