Philosophy student wins physical strength contest
Reem Dahduli shows extraordinary stamina and takes first place at the Strongest Athlete Competition in Beirut.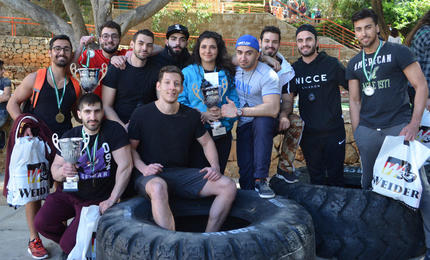 Philosophy student Reem Dahduli, a player in LAU's rugby varsity, was not shy about signing up for the Strongest Athlete Competition, but the results exceeded her expectations.
"It was a nice and challenging competition but I didn't expect to win against both men and women," she said.
"We are a generation where women are as strong as men, so they [the men] have to get ready for that," she added.
Thirty students participated in the event this spring at LAU Beirut. Formerly known as the Strongest Man Competition, the name was changed when women started participating in 2016.
This year, the competition was under the auspices of LAU's Professional Fitness Diploma (offered by the Continuing Education Program) and the Sports Performance Institute.
The participants' strength, stamina, endurance and, most importantly, willpower were put to the test. Divided into four different categories according to their weight and gender, the athletes competed over a main round and a bonus round.
With spectators cheering them on in the Safadi Fine Arts Building yard, the athletes went through an obstacle course of four consecutive exercises: pull-ups, tire spins, log presses and a farmers' walk. Scoring was based on the best finishing time.
In the bonus round, each category was lined up for a push-up challenge. The greatest number of repetitions yielded a seven-second deduction from the time recorded in the main round, the second highest a five-second deduction, and the third a three-second deduction.
The results:
Overall
1st place: Reem Dahduli (1:31)
2nd place: Mohamad Husseini (1:45)
3rd place: Anthony Jawad (2:25)
Under 75kg Men
1st place: Mohamad Husseini (1:45)
2nd place: Omar Mansour (1:49)
3rd place: Ali Jaber (2:07)
75-85kg Men
1st place: Anthony Jawad (2:25)
2nd place: Mohamad Sandakli (2:37)
3rd place: Mahmoud Jaber (2:53)
Above 85kg Men
1st place: Ali Tfaili (2:59)
2nd place: Ali Abedbaki (6:07)
3rd place: Mostapha El Otari
Ladies Open
Reem Dahduli (1:31)
Lynn Dia (1:33)
Sana Eter (1:35)