Political engagement
LAU students took to the voting polls on both campuses to cast their ballot for student council representatives.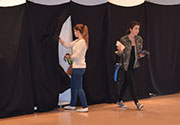 Polling booths were set up in different areas around both campuses allowing students to cast their vote in private.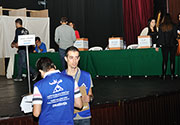 Groups of student observers wandered around making sure voting was taking place in orderly manner.
Click on any photo for larger version.
On November 9th LAU students took to the voting polls to cast their ballot for candidates to represent them on the 15-member-student council at LAU's Beirut and Byblos campuses.
This year a new group was among those vying for students' votes: Take Back LAU Council—a secular student movement independent from all other parties. The group's stated objectives are a rejection of sectarianism and party affiliation. Take Back LAU Council fielded four candidates in the elections. One, Hassan Harb of the Beirut campus, garnered enough votes to secure a seat on the council.
"Many LAU students have become sick of being divided according to their sects or political views," says Harb.
"As a member of the council, I am fully aware that now I am a servant for the students, and my duty starts with working toward accomplishing what I promised my voters and my fellow students; starting with working on getting a 24-hour study area in the library," he continues.
"The student council deals exclusively with LAU issues—not national politics," Dean of Students at LAU Beirut Dr. Raed Mohsen reminds us.
Indeed, the student council representatives play a pivotal role in the universities' decision-making procedures. Important university strategies and investments such as the creation of teaching policies, allocation of university funds, and prospective campus renovations are among some of the issues debated among the elected students.
Considering this immense responsibility, Dr. Makram Ouaiss, chair of the Department of Social Sciences and political science professor, gave the candidates a mandatory pre-election workshop on the obligations inherent to political leadership.
"We want the candidates to reflect on the attitudes they ought to have in order to achieve a successful and transparent election," said Ouaiss at a talk he presented to students regarding the importance of running for political office.

By all accounts, the electoral process was administered with a high degree of professionalism. "The elections went very smoothly and we were thrilled by the turnout and respectful manner of all those involved," says Dean of Students at LAU Byblos, Dr. Mars Semaan.
"It is important to have your voice be heard and give your opinion," says first-year M.B.A student at LAU Beirut Rafael Babikian who participated in the elections. "The student body should be optimistic and hold the candidates to high expectations and if they don't deliver we can hold them accountable in the next election."
Approximately 41 percent at the Beirut campus turned up to vote, out of approximately eligible 4000 students. Turnout was much higher at the Byblos campus where close to 72 percent voted out of 2853 eligible students.
After the winners were announced, they attended a workshop hosted by the Dean of Students' office to discuss parliamentary procedures, their rights as students and the essential nuts-and-bolts of elected life.
"It is when campaigning is over and the reality of the workload sets in that the students realize how much work and responsibility they have ahead of them," says Mohsen.
You campaign in poetry and govern in prose, is a famous phrase attributed to former Governor of New York State, Mario Cuomo, and it will certainly prove true for the elected students who now have to direct their energy on representing their student body at the administrative level.