President Jabbra chairs conference on violent radicalization of youth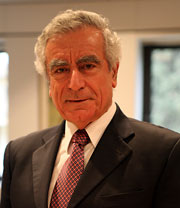 Dr. Joseph G. Jabbra, LAU president

July 28, 2008—
The issue of preventing youth from being drawn into violent extremism and engaging them in positive change was at the center of a conference last month, co-organized by UNESCO and the Kingdom of Bahrain and chaired by LAU President Joseph G. Jabbra.
As chair of the plenary session, Dr. Jabbra played a key role in moderating and coordinating the sequence of speeches and panels. One of the key questions addressed during the conference was: Why do young people resort to aggressive and radical behavior? Some of the reasons discussed included unemployment, poverty, changing family structures, lack of education and skills, increased migration, marginalization, and exposure to insecurity and conflict through the media or in their immediate surroundings.
Young people "have the potential and the power to be true agents of change in this rapidly changing and increasingly globalized world," said UNESCO Deputy Director-General Marcio Barbosa in his welcoming remarks. "Yet, while the emergence of a global society and the trend towards political and economic liberalization have brought greater freedoms, these changes have also produced a significant degree of uncertainty for the youth of today. Globalization has created new opportunities for economic and social development; but it has also contributed to inequalities," he added.
In his keynote message, well-known Brazilian author Paulo Coelho (of the international bestseller The Alchemist) wrote, "When we see a child bearing a gun, we know that we are in front of the consequence of a bigger problem—not at the root. Indeed, how can we see these youths as responsible of their actions? The choice was not made by them—but for them, or better said, against them."
Quoting the story of "Sadness and Fury" written by Argentinean Jorge Bucay in his keynote address, Former President of the Republic of Colombia Andrés Pastrana said, "It is in our hands to help the sadness disguised as fury to acknowledge the sources of her pain and eliminate them; to help the eyes and the minds blinded by hatred to become compassionate and wise."
The three-day conference in Manama, Bahrain, brought together experts, policymakers, and young people from non-governmental organizations, the private sector, local and national governments, and educational institutions around the globe to share ideas and best practices that have succeeded in engaging youth in positive community projects.
Some of the major themes covered included building confidence and leadership through community action, curricular and extracurricular educational influences, employability, technology and networking, and the role of information and the media.
For more information, go to the "Youth@the Crossroads: A Future Without Violent Radicalization" conference's website.