Profiling the status of gender in Arab countries
IWSAW launches the first of a series of profiles that will provide a useful comparative tool for activists and researchers alike.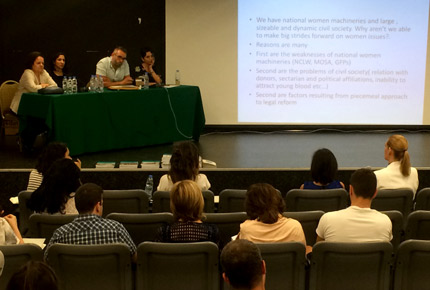 LAU's Institute for Women's Studies in the Arab World (IWSAW) just launched a twelve-page gender profile of Lebanon, the first of 22 publications that individually provide a review of laws and statistics relevant to gender issues and equality across a variety of sectors in each of the member states of the Arab League.
"Those country gender profiles are a platform from which researchers, students, activists, and others can begin their work based on reliable information – vetted by gender specialists from each country," says IWSAW Director Lina Abirafeh. "They are meant to be living documents, updated with new information as statistics change and more studies are done. We are not creating something new, but rather compiling the information to make it useful and easily accessible to a wider audience," she adds.
Nida Latif, public health and gender-based violence expert is the author of the Lebanon profile. "This publication gives an idea of the legal and constitutional framework as it applies to a number of sectors in Lebanon," she explained at the launch. Much of the information, she noted, was gathered from documents available online, including the World Bank, the European Union and CEDAW reports.
According to political science professor and gender consultant Marguerite Helou, the country expert appointed to review the profile, "a quick skim of the report shows that there is a lot of discrimination against women at many levels."
Among the examples she listed were a number of laws in the penal code which, for instance, markedly differentiate between men and women with regard to the expectations and punishments related to adultery.
More pertinent are laws that limit, if not altogether mitigate, punishment for the murder of women at the hands of male relatives. "We succeeded in removing the law that permits lesser sentences for perpetrators of honor crimes … But there is another law that offers leniency to those caught in a fit of rage," said Helou, who advocates total reform of the system. "The lack of progress to date is due to piecemeal work," she told the LAU students and representatives of various non-government organizations in attendance.
A passive and peripheral electorate that views any request for change within the prism of sectarianism and hence considers it a threat to society and culture perpetuates discrimination against women. Cultural and gender norms also incite fear and hatred toward homosexuals. "A survey of 1,200 people found that the majority reject homosexuals not because of religion but because they consider them a threat to society," explained Georges Azzi of the Gender & Sexuality Resource Center. He went on to describe a recent case in Lebanon in which the challenge issued from the semantics of a written law prohibiting homosexuality.
Such challenges and civic actions are essential steps in the journey toward equality. "Lebanon is a pluralist and heterogeneous country with a conflicted political culture and no participant political culture. You must adopt a new attitude," implored Helou addressing the students before her. "The constitution does not prevent legislators issuing civil laws. You must hold your politicians accountable."
Gender profiles of Morocco and Jordan are forthcoming.