Prominent Arab women writers present their work and challenges at LAU seminar
The event gathered 11 novelists and poets from different countries, celebrating Beirut's designation as the World Book Capital for 2009.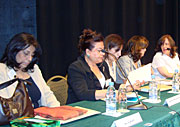 From left: Dr. Fawziya Rashid (Bahrain), Dr. Fatima el Ali (Kuwait), Anissa Abboud (Syria), Laila Al-Atrash (Palestine) and Samiha Khreis (Jordan) getting ready for the dialogue session.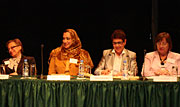 From left: Zouhour Wannisi (Algeria), Dr. Hoda Nouaymi (Qatar), Dr. Rashida bin Masoud, (Morocco) and Ikbal Barakeh (Egypt).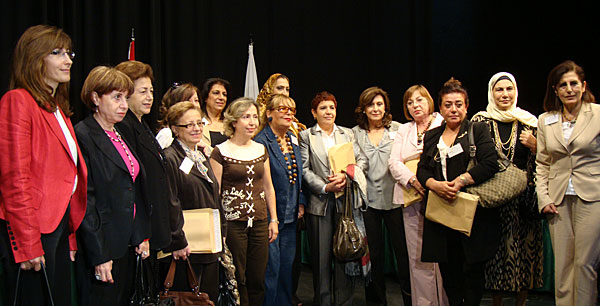 Event organizers and speakers gather for a final picture.
Click on any photo above to view all three images
Celebrating Beirut's designation as the World Book Capital for 2009, 11 prominent women writers and poets from different Arab countries gathered at LAU–Beirut's Gulbenkian Theatre on November 10 for a seminar entitled "Dialogue on the Arabic Novel and Poem."
Dr. Nour Salman, a prominent Lebanese author and researcher, moderated the event, and introduced the guest writers: Dr. Fatima el Ali, Kuwaiti writer and researcher; Ikbal Barakeh, writer and chief editor of Hawa'a Magazine from Egypt; Zouhour Wannisi, writer and first Algerian woman minister; Dr. Hoda Nouaymi, Qatari writer; Dr. Rashida bin Masoud, critic and member of the Moroccan Parliament; Samiha Khreis, Jordanian novelist and winner of the Award for Excellence in Innovation in Arabic Novel; Laila Al-Atrash, Palestinian novelist and board member of the Jordan News Agency (Petra); Anissa Abboud, Syrian novelist, engineer and president of the Press Office of the Commission of Public Research; and Dr. Fawziya Rashid, Bahraini writer and founding member of the Bahrain Women's Union.
"The works of the women gathered here provide living proof to the very essence of being a woman in the Arab world," said Salman.
The writers answered a variety of questions posed by the moderator and the attendees relating to political, socio-economic and other issues women face in their countries.
"Many of us were discriminated against in our countries, by our very governments," said Rashid when asked about the support she had in her home country. She added: "It was very difficult for a long time. But now, it is slowly changing."
The writers also discussed the difficulties they face in their effort to portray the Arab woman in their works.
"Even in our combined Arab culture, the experiences of women are different," said el Ali, explaining that "in the more conservative cultures of the Gulf, the struggle for women's rights has been more intense." "However, this does not mean that the experiences of women in the less conservative countries such as Lebanon are in any way less valuable," she added.
The event was organized by LAU's School of Arts and Sciences, in association with the university's Institute for Women's Studies in the Arab World and Diwan Ahl el Kalam.
"LAU has always been very supportive of women's issues and causes," said event attendee Dr. Aman Kabbara Sha'arani, LAU alumna and president of the Lebanese Council of Women and the National Committee for the Follow-up of Women's Issues. "This is natural, as it started out as a women's college."