Promoting conflict resolution and peace building among students and children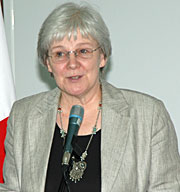 Dr. Irma-Kaarina Ghosn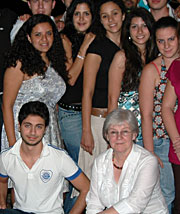 Ghosn with the participants of the Third Regional Summer Academy on Conflict Resolution and Peacemaking, 16–25 August 2007.
April 23, 2008—
The Institute for Peace and Justice Education is beginning to prepare for its upcoming summer academy in August, a workshop which brings together university students and teaches them the theory and practical application of conflict resolution and peacemaking.
Dr. Irma Ghosn, IPJE Director and chair of LAU's Humanities and Social Sciences Division in Byblos, gave two lectures in New York early this month to promote the event and raise awareness on the issue of peace building among students and children.
In one of her lectures, entitled "Summer Academy on Conflict Resolution and Peacemaking: Emerging Leaders Learning to Dialogue With 'the Other,' " Ghosn introduced the audience to the program and purpose of the academy, and shared stories about teaching peace-building skills to young people from the Middle East.
Last year, about 30 university students, primarily undergraduates from Lebanon, Syria, Jordan, Palestine, Egypt and Kuwait, were selected out of more than 80 applicants to participate in the third regional summer academy. During the ten-day workshop, students developed interpersonal skills, gained a better understanding of conflict resolution, and presented proposals for community projects.
"If we can equip future leaders with the skills of peace building, negotiation, consensus building and so on, we will have a better society," said Ghosn, as she explained the idea behind the initiative. According to her, the summer academy has led many of the participants to pursue peace-related studies and human rights work.
Ghosn has been particularly interested in promoting peace and tolerance among children through literature. In fact, this was the topic of her second lecture in New York, entitled "Children as Peace Builders."
"I believe that carefully selected children's literature can be used for peace-building purposes," Ghosn said. According to her, certain types of literature develop a child's character and can foster the kinds of skills and attitudes needed to enhance peace. Ghosn focuses on children, because researches have shown that most of these character traits and values develop at an early age.
Her research illustrates that proper kinds of literature may enhance, for example, children's imagination, creativity, empathy, and tolerance, as well as their ability to use words rather than physical aggression in play.
Exposure to some classical fairy tales, such as Cinderella, helps a child to identify with the heroine, who is a good person despite the sibling rivalry or the unfairness of a parent she experiences. Likewise, the child may learn to be good even in hardships and unfairness, Ghosn explained.
Her research shows that stories can also teach the norms and values of society; children can learn about how to be a good friend and how their behavior affects others in relationships.
According to Ghosn, children's awareness of conflict resolution can be raised through specific types of literature that show how conflict escalates, what kinds of outcomes it can lead to, and how it can be resolved.
Two great examples of stories that teach children to be peace builders, according to Ghosn, are "Two Monsters," a story about what can happen when people don't understand and refuse to listen to each other, and "A Hundred Dresses," a story about bullying, originally published in the 1940s.
To learn more about the activities of the Institute for Peace and Justice Education, visit its website: http://www.lau.edu.lb/academics/centers-institutes/ipje/.