Promoting peace and tolerance through education
A new book published by an LAU institute highlights the importance of integrating peace-building initiatives into mainstream education.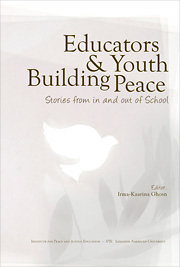 A new book published by LAU's Institute for Peace and Justice Education highlights the importance of peace education.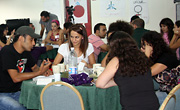 IPJE has held an annual Summer School on Conflict Prevention and Transformation since 2004.
Peace education as a discipline has the potential to reshape the future by giving today's youth a medium through which to grapple with the meanings of conflict and violence, peace and tolerance.
Though it is not yet part of the mainstream curricula, like mathematics or history, it is important everywhere — not just in areas of the world prone to conflict, according to Dr. Irma-Kaarina Ghosn, director of LAU's Institute for Peace and Justice Education and associate professor in the Department of Humanities and Social Sciences at the School of Arts and Sciences in Byblos.
"To my knowledge, no region or country, although perhaps at the state of 'negative peace' (simply the absence of overt violence), has so far reached the goal of 'positive peace' when there is no structural, psychological or personal violence, and humans are in harmony with the natural world," she explains.
In an effort to promote peace education, IPJE has recently launched a book titled Educators & Youth Building Peace: Stories from in and out of School, edited by Ghosn.
Its 16 chapters contain reflections and inspirational talks, and describe a number of actual peace-education projects that educators have carried out in different contexts around the world.
Contributors include peace-education pioneers Professor Betty Reardon and Professor Sir Bernard Crick; Dr. Mishka Moujabber-Mourani, senior vice president at Lebanon's International College; and Elie Samia, lecturer at the Department of Social Sciences at LAU Byblos and executive director of LAU's Outreach and Civic Engagement unit; among others.
According to Ghosn, crucial components of peace education include human rights; gender issues; conflict resolution and peace building; environment; prejudice and tolerance; and disarmament.
Though it is probably not a course most Lebanese high school or university graduates could say they have taken during their years of schooling, peace education has been taking place in various forms in the country.
"There are a number of different groups and individuals working on different aspects of peace education in Lebanon, and many schools have included some aspects in their curricula, but peace education as a discipline has not yet taken root in the mainstream," Ghosn says.
She also explains that the impact of peace education is not easy to measure, since it involves long-term changes in attitudes, values and, subsequently, dispositions and behaviors.
"For maximum impact, it would be important to infuse peace education into all levels of formal and non-formal education," she adds.
The anticipated readership of the new book includes participants in the annual IPJE Summer School on Conflict Prevention and Transformation, educators in formal and non-formal education, and individuals interested in peace building in their communities.
The publication of the book was made possible by generous grants provided to LAU by the Mennonite Central Committee to support IPJE's peace-building work. In addition, the book manuscript was peer-reviewed free of charge by external reviewers (names withheld).
Ghosn has been teaching at the Byblos campus since 1991 and has been involved in peace education since 1995. She was a member of the International Advisory Group of the Global Campaign for Peace Education, launched by the Hague Appeal for Peace in 1999.
Download a copy of the book (PDF, 4.6 MB).