Racing for a greener planet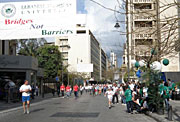 LAU students cheer racers in Hamra Street.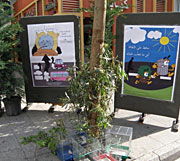 Posters and birdcages at LAU's stand spread awareness on pollution and illegal hunting.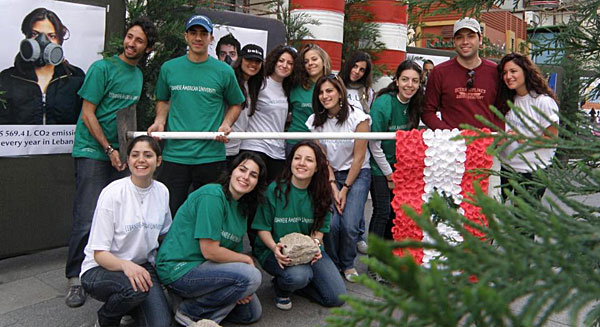 A group picture of LAU students in front of awareness-raising posters.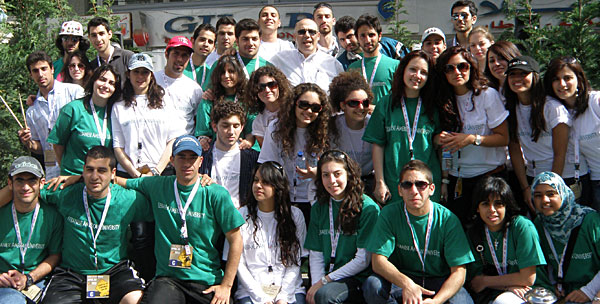 LAU students with Guidance Office–Byblos officials.

Click on any photo above to view all five images
May 7, 2009—
Heightening public awareness on the catastrophic impact of climate change was the main aim of dozens of LAU students who participated in the HSBC Earth Race April 26.

Around 70 students from LAU's Scouts, Pulse, and Music clubs manned a brightly decorated 25-meter information stand in Hamra Street under the motto "The Earth is Turning on us."

Air pollution, deforestation, and contamination of the Mediterranean Sea and Lebanon's water resources were three environmental issues highlighted at the stand.

Students had placed 35 trees around the stand, to emphasize the rapid destruction of Lebanon's forests, and dozens of birdcages to highlight illegal hunting—now so widespread that there are 14 different endangered bird species in the country.

Meanwhile, LAU musicians from the university's Music Club played songs highlighting the importance of environmental sustainability.

Large billboards displayed a number of unsettling statistics about environmental problems. One of them had an image of LAU students wearing face masks to raise the alarm about Lebanon's skyrocketing pollution.

"Deforestation has reached very shocking levels" in Lebanon, said Elie Samia, director of the LAU Guidance Office–Byblos, which organized the stall along with the student clubs.

The country's forest cover, which was 35 percent in 1960, now stands at a mere "4 percent, which is considered an arid area by the United Nations Development Program," Samia added.

Lebanon's iconic cedar trees are also feeling the heat of climate change. The trees, which rely heavily on frost, were recently placed on the "Red List" of the International Union for Conservation of Nature as a "heavily threatened" species.

Environmental experts say 57 percent of Lebanon's sewage water is pumped directly into the Mediterranean Sea without any treatment. In addition, salinity levels in Lebanon's waters have become so severe that it will take 80 years for the country's aquifers, rivers and streams to recover, Samia said.

"For the last four years, LAU has had a water stand at the [Beirut] marathon," said Joseph Kanaan, program coordinator at the Guidance Office–Byblos.

"This year we took a station to raise awareness of the damage caused to the environment" in Lebanon, Kanaan said.

The stand had a "very encouraging response from the public," attracting runners and curious members of the public, he added.

Christel Msaid, president of LAU's Pulse Club, which focuses on community work, said the university would persevere in its efforts to become a more environmentally friendly institution.

The event was held by the Beirut Marathon Association in collaboration with the Italian Union of Sports for All and the ministries of Education and Environment.

As part of a climate change awareness drive, runners were given tree seeds to plant upon their completion of the race.