Reading Arabic In New York
LAU's Summer Institute for Intensive Arabic and Culture starts delivering Arabic classes in the heart of Manhattan.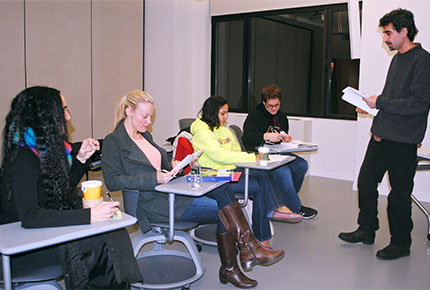 "Yesterday was my first day of classes at LAU New York and I loved it," said Keeley Zumbo, a student enrolled in the Summer Institute for Intensive Arabic and Culture (SINARC) Arabic program.
In the heart of the Big Apple, a hodgepodge of cultures and languages, the LAU New York Headquarters and Academic Center has become a hub for learning Arabic through a special program pioneered and implemented by SINARC that offers courses of high academic standards.
To best suit the pace and abilities of the students, spring session classes, which began in January and will end in April, are offered at three levels—beginner, intermediate and advanced.
The program has mainly attracted graduate students of history, Middle Eastern studies and politics, and world literature, as well as professionals wanting to hone their Arabic writing and speaking skills. The classes are an opportunity to learn Modern Standard Arabic and practice the Lebanese dialect.
The courses, recognized by most institutions worldwide, allow many students to be able to transfer courses taken at LAU for academic credit counting toward the completion of their degrees.
"The program targets everyone with an interest in Arabic, especially children of expats from the Arab world, as well as ambassadors and their families who are residing in the United States, but want to learn the language," said Dr. Mimi Jeha, SINARC director.
What is more, the program has put together one-on-one comprehensive tutorial sessions, tailored to accommodate people with packed timetables, such as businessmen and employees in the public sector and international relations field.
"Non-speakers of Arabic can now also benefit from personal, intensive lessons to prepare them for their first business trip or relocation to the Middle East," explained Jeha before adding "Future expansion plans include liaising with the Lycée Français in New York through giving Arabic classes at the school and offering short 12-hour weekend courses."
Aware of the fact that learning a language is on a par with assimilating the culture that comes with it, SINARC doesn't limit its program to pure academic activities. In April, a veteran chef will be preparing the best of Lebanese culinary delights in celebration of the end of the spring session. And over the summer term, the screening of popular films is scheduled to take place to broaden the participants' exposure to cultural production in Arabic."A lecture series is also underway. We are planning to invite speakers, including authors, political scientists and other experts, on issues pertaining to Lebanon and Middle Eastern culture," promised Jeha.
For now, the level of student satisfaction is palpable. "Now at the age of 34, I'm able to take advantage of a wonderful opportunity," says Lebanese Sam Karam, who moved to New York when he was seven and never got a formal Arabic education. "The facilities are excellent and high-tech, and the professor is an absolute delight as well as a powerful teacher," he adds.