Receptions honor LAU's top students on both campuses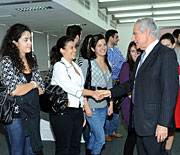 LAU President Joseph G. Jabbra greets merit scholars in Byblos.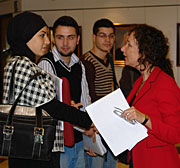 Dr. Elise Salem, LAU vice president for Student Development and Enrollment Management, congratulates merit scholars on the Beirut campus.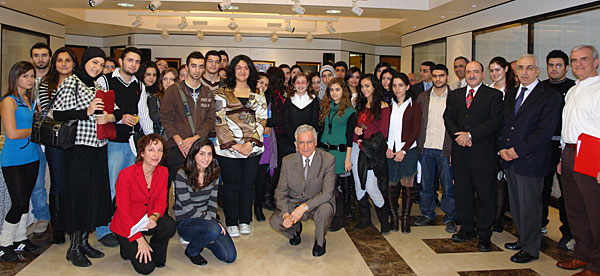 Group picture of attendees at the reception on the Beirut campus.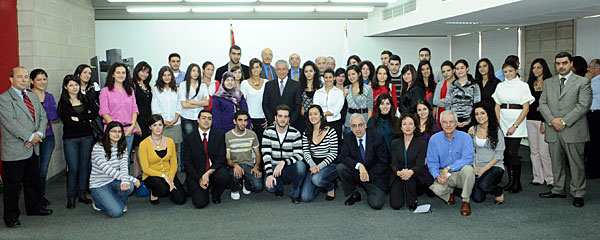 The Byblos merit scholars with Dr. Jabbra, and LAU officers, faculty and staff.
Click on any photo above to view all four images
November 23, 2009—
LAU honored its 83 merit scholars who receive full tuition coverage with receptions held on both campuses November 12 (Byblos) and 13 (Beirut) in the presence of fellow students, faculty, staff and members of LAU's upper management.
In line with its commitment to raising academic standards and making education accessible to a higher number of students, LAU has increased the number of merit scholarships that are offered to entering LAU students based on their high school and Lebanese Baccalaureate grades as well as personality. Merit scholars can maintain their scholarships as long as they keep their GPAs high.
"While [financial] need remains a very important foundation for financial aid, we are trying to recruit [more] students like yourselves," said Dr. Elise Salem, LAU vice president for Student Development and Enrollment Management, addressing the merit scholars.
This year, 20 new students received merit scholarships on the Beirut campus, and 21 on the Byblos campus, whereas in previous years LAU had accepted about five new merit scholars per campus, according to Abdo Ghié, assistant vice president for Enrollment Management.
"We feel very strongly that we need students like you in order to nurture, strengthen and maintain strong academic standards at this institution," LAU President Joseph G. Jabbra said at the event, addressing the students.
"You raise the bar for us as faculty, as staff and you inspire your fellow students," Salem said in her speech.
Merit scholar Ali Hariri, a first-year electrical engineering student, says he felt all his hard work in school was appreciated due to his scholarship.
Another merit scholar, second-year business student Farah Chihadeh explains that without such a scholarship she would have had to get two jobs to be able to afford tuition.
"It meant the world!" says first-year psychology major Nour Hamze of receiving the merit scholarship. "It motivated me, and I felt LAU now is like my second home. I want to give it the best and I'm so proud to be a part of it."
Jabbra encouraged students to hone their academic talents and cultivate their intellectual prowess but added that "intelligence is not enough in life to be successful." He stressed the importance of personal growth and encouraged students to give back to the community.