Renowned space scientist galvanizes students at LAU
LAU board member and former director of NASA's Jet Propulsion Laboratory (JPL) Charles Elachi talks to students about discovery and perseverance.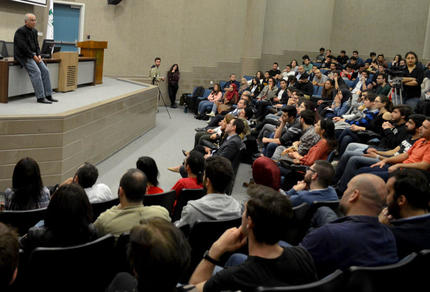 Former director of NASA's Jet Propulsion Laboratory, Charles Elachi, spoke last Saturday to hundreds of students lucky enough to find seats in the packed auditorium at the Gilbert and Rose-Marie Chagoury Health Sciences Center, Byblos.
Elachi, former chair and currently a member of LAU's Board of Trustees, had been invited by the Byblos Astronomy Club.
"Who would have thought that a little boy who grew up looking at the nighttime sky in Rayak, Lebanon, would someday become director of a world-renowned center for space exploration?" he said. Retired from his position as director of JPL since last year, Elachi continues to teach electrical engineering and planetary science at the California Institute of Technology (Caltech), of which he was once vice president. As head of JPL, he played an instrumental role in the landing of high-tech rover Curiosity on Mars.
"He is a remarkable and down-to-earth person, despite his great wealth of experience and busy schedule," said Sarah Kawtharani, head of the student club. "We are all here to learn from him."
Indeed, Elachi's main motivation for attending was to galvanize and encourage aspiring engineers to push the boundaries of discovery.
His 90-minute presentation traced the journey of the planets and galaxies while highlighting the achievements of the 6,000-person NASA team in discovering more about them.
Elachi shared a video with the students that featured JPL's many missions and achievements during his time there. "If you want to shape the future and expand the horizons of man and exploration, you have to do important things, hard things … not the same things as others," he said, encouraging the students to accept failure, as an inevitable part of discovery and determination. "Taking easy classes and getting an A teaches you nothing. You learn from failure."
Despite some failures costing hundreds of millions of dollars, Elachi is adamant that the benefits of the successes far outweigh all costs.
"It inspires people to see that we, as humans, can do great things, like build a rover that can land on distant planets," said Elachi, showing photographs of some of the 50 million Americans who gathered to watch the landing of Curiosity. "This doesn't only inspirit engineers and scientists but all people. It shows that if we really work hard, we can do almost anything."
Stimulated by his talk, students eagerly engaged in a Q&A session and asked how they too could achieve great things. Referring to the 1960s discontinued Haigazian College Rocket Society program that could have allowed Lebanon to join the space race a student from Balamand asked: "I want to dare mighty things, but how can I do that in Lebanon?" Elachi responded by urging students to start rocket clubs and build drones. "When we hire for NASA we look at what people have done outside the classroom … at how they have pushed further and taken on extra challenges."
Both the libraries of Caltech and LAU now hold a signed copy of a limited edition book produced by NASA to commemorate Elachi's 16-year career with the space exploration agency. His former colleagues also planted a Cedar tree in the NASA garden and named the mission control center after the Lebanese scientist.
Pointing to photographs of earth―a mere dot in the big bright galaxy―Elachi put things into perspective. "Everyone you know lives on this dot. There are no boundaries, no people of religion. Everyone is sharing this tiny dot in the sky, which we must all protect by working together."