Reviving an endangered art form: Classical oriental dance in the spotlight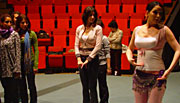 Students practice classical oriental dance at the Gulbenkian Theatre.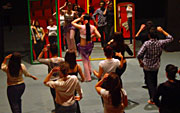 Azar demonstrates key "raqs sharqi" movements.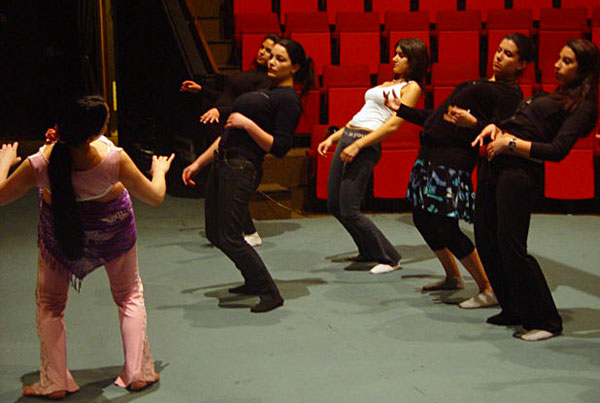 Communication arts students follow Azar's dance instructions.

Azar shares her passion for oriental dance with LAU students.
Click on any photo above to view all four images
April 1, 2008—
A lecture demonstration and a three-day workshop on "Classical Oriental Dance or 'Raqs Sharqi,' " organized by the Arts and Communication Department and presented by professional dancer and teacher Suha Azar two weeks ago in Beirut, shed light on this "endangered art form" and engaged students in practice sessions.
At the lecture demonstration, Azar spoke about the dying arts of the Arab world. In particular, she summarized the history and current state of oriental dance, showing excerpts of old films with famous "golden era" dancers such as Naima Akef, Tahiya Karioka, and Samia Gamal.
She considered this event as an opportunity to introduce young people to a dance style she loves and hopefully they will fall in love with as well.
Azar explained that oriental dance originated from stylized folk dances and not, as per popular myth, from the harem. According to her, oriental dancers were the original feminists, improvising within a framework and showing their femininity in art.
After being popularized in the 1950s especially in Lebanon and Egypt, "raqs sharqi," along with many oriental arts, experienced a period of steady decline since the 1960s, Azar said. She attributed the "broad ignorance about the subject" and the negative portrayal of women in Arab art to mass consumerism, as well as to a lack of interest in preserving the Arab culture and arts.
As compared to Western dance forms, which carve silhouettes with limbs, this Eastern dance style involves many internal movements, especially of the abdomen and hips, Azar said.
The workshop, held after the lecture demonstration and on the following two days, gave communication arts students an opportunity to practice dance steps under Azar's instruction.
Azar, a third-generation Lebanese dancer, spent the last three years traveling and training dancers in North and South America, and in Europe. She is now back in her native country to try to revive the fading art form.
"Why are we so quick to accept what the West gives us and not learn our own culture?" Azar asked during her lecture, thanking LAU for allowing her to raise awareness on and shape a better understanding of classical oriental dance.