School of Nursing extends its knowledge and facilities to professionals
The Bellevue Medical Center's nurses benefit from tailor-made training and simulation courses at LAU's clinical simulation center.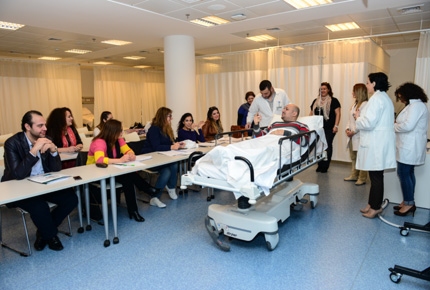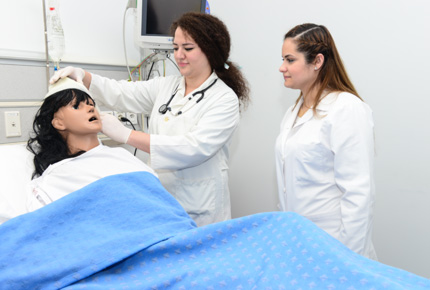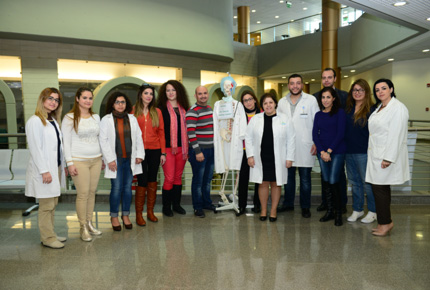 This month, nine registered nurses from the Bellevue Medical Center (BMC) completed an intensive training course at LAU's state-of-the-art clinical simulation center at the Chagoury Health Sciences Center on the Byblos campus.
This was the first time nurses from outside the LAU community had benefitted from training at the School of Nursing (SON), but not the last. "We will be opening up the center as a continuing education unit for all hospitals," explains Mira Youssef, one of four LAU faculty members involved in the delivery of the custom-made two-day course.
"The nurses from Bellevue told us what their needs were and we designed a curriculum accordingly," Youssef continues, "including train-the-trainer modules so that they can go back to their hospital and deliver the training to their colleagues." The nine trainees each work within a different specialized unit at Bellevue and each will be responsible for extending the training they received at LAU to nurses in their respective units.
While the nurses all work at BMC, they come from different backgrounds and levels of experience. The nine trainees have been working in the nursing field between four and eleven years, and graduated from a total of eight different university programs in Lebanon. "Many of us didn't know each other before we met at this training session," says one participant, adding, "sharing this experience and getting to know each other will help us with team-work and planning and delivering the training at our own hospital."
Despite, or perhaps as a result of, being the newest nursing school in Lebanon, LAU's program benefits from highly experienced faculty and cutting edge technology. According to one participant in the course, "The simulation center enabled us to practice on mannequins, preparing us for when we receive and examine actual patients." The mannequins can be programmed to give off heart and lung sounds that indicate different conditions, enabling the nurses to practice diagnostics in an environment with less pressure and practical guidance from the instructors: "If you make a mistake there is someone to correct you and to teach you."
In addition to the hands-on training, the BMC nurses reviewed their analysis and documentation techniques. "I am French educated," says one participant, "but we document in English at my hospital, so it was very helpful to review the terminology again. The course was both a refresher and introduced new knowledge."
"This training program has given us another opportunity to have a positive influence on upgrading the level of nursing practice within Lebanon," says Dr. Nancy Hoffart, dean of LAU's SON. "This is certainly part of the mission of the school and of the clinical simulation center, which is designed to support the interdisciplinary and integrative teaching-learning process for students and professionals in the interest of patient care."