Schooling the scholars
IWSAW organizes "Gender training for Iraqi academics and researchers" workshop at LAU.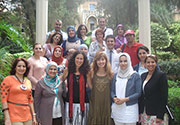 The ten-day workshop was attended by around 20 Iraqi academics and researchers from different fields.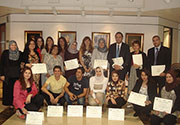 The workshop's participants are now going to conduct their research in Iraq under the organizers' guidance.
Click on any photo above for larger version.
 The Institute for Women's Studies in the Arab World (IWSAW) at LAU, in partnership with the Women and Memory Forum (WMF) in Cairo, and the Center for Gender Studies (CGS) at the School of Oriental and African Studies (SOAS) University of London recently hosted a workshop under the title "Gender Training for Iraqi Academics and Researchers."
The ten-day workshop was hosted at LAU Beirut from September 17-26 and was attended by around 20 Iraqi academics and researchers from different fields. The program addressed critical, present-day issues such as feminism in the West, in the global South, and in the Arab world, feminist epistemologies and research methodologies, gender and literature, and gender and media studies.
"The Arab world is lagging behind every other part of the world when it comes to women and gender studies," says Dr. Dima Dabbous-Sensenig, assistant professor of communication and director of IWSAW. "This is the perfect project for us to train academics, and pertinently introduce feminist and gender research as a discrete entity in academia."
For the past 20 years, Iraq has been fairly isolated, notes Dabbous-Sensenig, and university-level academic programs have been falling behind when it comes to social sciences and literature, among other topics. True enough, various NGOs have been both organizing and funding institutional and coherent projects to alleviate the dire situation facing Iraqi women, but the fact remains that there is a crisis in higher education when it comes to women and gender studies - a pedagogical gap that this workshop hopes to fill.
The workshop helped the participants to develop proposal writing and research project development skills, while familiarizing them with regional and international debates and research on women and gender studies. It appealed to both Iraqi men and women, showing beyond doubt that women's rights are first and foremost human rights.
Dr. Hoda El Sadda, co-founder and current chairperson of the Board of Trustees of WMF, mediated the lecture on gender and literature, using Egyptian writer Naguib Mahfouz's lead characters to reflect on society's view of gender roles in late 1950s Egypt.
In Mahfouz's novel Palace Walk (Bayn al-Kasrayn), the male protagonist Al-Sayyid Ahmad Abd al-Jawad is portrayed as an oppressive husband, whose obedient and superstitious wife Amina is "trapped in a world of fables," says El Sadda.
"Mahfouz's depiction of Amina as the traditional, submissive Arab woman is remarkable in how it shows that this is the view of women that our society should overcome, because it simply doesn't work," she explains.
Dr. Irada Al-Jabbouri, lecturer in the College of Mass Communication in the University of Baghdad, says this workshop helped her to consider women and gender research from a fresh perspective.
"This workshop gave us new angles, new directions," she says. "It taught us how to use the concept of feminism as an analysis tool, and how to incorporate it in our curricula. It's important to be able to link all these issues not just in academia, but in real life, as well."
After having their initial research proposals preapproved, the workshop's participants are now going to conduct their proposed research in Iraq, under the guidance of the project's organizers. Dabbous-Sensenig hopes to see the research findings published in a special edition of Al Raida, IWSAW's quarterly published journal, next summer.
"This shows the participants' commitment to promote gender studies in the Arab world," says Dabbous-Sensenig. "We hope to publish their research both in English and Arabic so as to ensure maximum visibility - not only locally, but globally, as well."