Secretary Spellings addresses LAU Board of Trustees, highlights U.S. support for higher education in the Middle East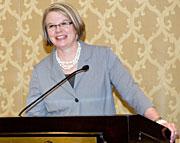 U.S. Secretary of Education Spellings addresses the LAU Board of Trustees on March 27.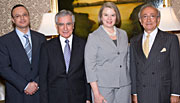 From left to right: Dr. Paul F. Boulos, Chairman of the LAU Board of International Advisors; Dr. Joseph Jabbra, President of LAU; Margaret Spellings, U.S. Secretary of Education; and Dr. George Faris, Chairman of the LAU Board of Trustees.
March 28, 2008—
U.S. Secretary of Education Margaret Spellings delivered a keynote address yesterday at the LAU Board of Trustees meeting in Washington, D.C.
Secretary Spellings noted the accomplishments of the Lebanese American University and other U.S.-chartered institutions abroad. She also discussed historic U.S. support for these institutions and the potential of international education to build lasting relationships between the United States and the Middle East.
Joined by Lebanese Ambassador to the U.S. Antoine Chedid, LAU President Joseph Jabbra, and Chairman of the Board of Trustees George Faris, Secretary Spellings commended LAU on its record enrollment of approximately 6,800 students this year and on its innovative spirit. "The Lebanese American University demonstrates the transformative role that higher-education institutions can play in bringing students of diverse cultures together in the common cause of seeking truth and knowledge; LAU looks like our changing world," said Spellings.
In recent years, the United States Agency for International Development (USAID) has increased funding for LAU alone from $1.02 million in 1997 to $4.2 million in 2007. "Funding for the Lebanese American University is part of our broader support for American-chartered institutions in the Middle East, including the American University of Beirut, the American University of Cairo and the American University of Sharjah," remarked Spellings.
The U.S. secretary of education announced she will co-host a Higher Education Summit for Global Development with Secretary of State Condoleezza Rice and USAID Administrator Henrietta H. Fore at the end of April. "International education encourages students and higher-learning institutions around the world to engage in dialogue to enhance regional development strategies and collaborate on global challenges. This summit is a great opportunity for U.S. and foreign institutions of higher education to discover innovative ways of collaboration in teaching, training, research and addressing the needs of the developing world," Spellings said.
Since becoming the U.S. Secretary of Education, Spellings has worked to emphasize the importance of international education and to increase the number of student exchanges with the United States. She has traveled to five countries with 19 college presidents to encourage students to study in the United States, and has participated in discussions on how to best leverage partnerships to increase academic collaboration.
Addressing the LAU Board of Trustees, Spellings said, "Both at home and abroad, the quality of education we deliver is a key determinant of the future we can expect; it's central to peace, civic participation and prosperity."
To listen to Secretary Spellings' address to the Board of Trustees, click here (Windows Media Audio, 25 MB).
For more information about Secretary Spellings and the U.S. Department of Education, visit the Department's website.