Shaping well-rounded physicians through social medicine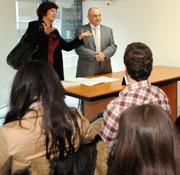 Community visits are one way LAU's School of Medicine integrates social medicine into its curriculum. Here, med students during a Red Cross Center visit in Byblos.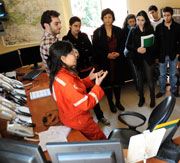 Dr. Mona Haidar, a Medical School faculty member, says social medicine is essential to educate well-rounded physicians. Here, she introduces med students to Dr. Shawki El Helou, director of the Ministry of Public Health's Byblos District Health Center, during a recent visit.
June 14, 2010—
Understanding how socio-economic and political factors can impact health, disease and medial practices is the objective of the field of social medicine.
Reflecting a rapidly growing global interest in social medicine, both publicly and socially, LAU's Gilbert and Rose Marie Chagoury School of Medicine has integrated its study as a key part of the curriculum.
"Our vision is to produce a new kind of physician — one who is well-rounded and trained to treat the patient and not the disease," says Dr. Mona Haidar, a faculty member from the School of Medicine. She adds: "And to do that, you need to understand the context in which the patient lives. Social medicine is essential to producing this new kind of physician."
Another major objective of social medicine is to nurture the environment in which an understanding of the affecting socio-economic factors can allow society to improve public health.
Last month, Haidar gave a presentation entitled "Social Medicine and Global Health: Do They Really Matter?" at the University Medical Center – Rizk Hospital.
In her talk, she introduced the basics of the field of social medicine. "I presented an overview of its history and its three main themes which are: Social determinants of health; social meanings of diseases; and social approaches to disease," she says.
"Physicians also have social responsibilities and they can be agents of change in their societies — they have both the responsibility and ability."
"I tried to make the case that social medicine does matter if you want to provide good care or the best care to your community, and I presented cases for that," Haidar explains.
In March, 25 LAU medical students, along with School of Medicine faculty members and LAU staff, got to know their local community better when they visited the Ministry of Public Health's Byblos District Health Center, the Lebanese Red Cross, the Ministry of Social Affairs' Center and local historical sites in Byblos.
The visit was organized by Haidar, as part of the school's social medicine curriculum.
After the visit, Haider said that the school hoped it enabled students to understand what constitutes a community and what factors, elements and stakeholders shape community heath.