South African leaders at LAU NY
LAU and Duke Corporate Education team up to bring businessmen and women from South Africa to NY City.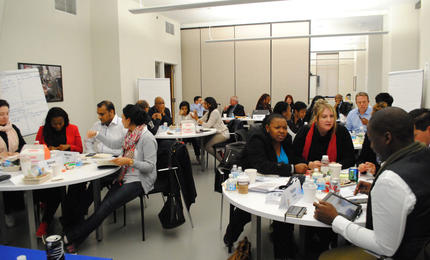 LAU recently hosted 19 businessmen and women from South Africa as part of a Duke Corporate Education (Duke CE) professional development program.
"They wanted to bring their program to the heart of the financial capital of the world," said Wassim Shahin, assistant provost for Special External Projects at LAU, who instituted the partnership.
It was the first time LAU had partnered with Duke CE, which is ranked the #1 provider of Corporate Education in the U.S., and #3 globally, by the Financial Times.
"The MOU we signed with Duke CE is crucial because Duke is a well-known academic institution with a leading business school that has a presence in several countries," Shahin said. "Their executive education programs have an academic aspect, which separates them from the many money-making training centers around the world."
Participants in the program were carefully selected by their superiors and by BANKSETA, the organization that underwrote the program. BANKSETA helps advance the national and global position of the banking and micro-finance industry in South Africa by promoting employment equity and broad-based black economic empowerment.
The Duke CE program runs throughout the year, with sessions in Lagos, Nigeria and Johannesburg. On this particular trip, the group spent a week in Durham, North Carolina, home to Duke University, where they visited a variety of companies such as Suntrust, Fidelity Labs, Barings, Queen City, Square 1, American Underground, and Spreedly, followed by New York, where they had program sessions on Mergers & Acquisitions, Strategic Thinking for Investment Bankers, Thinking as Entrepreneurial and Entrepreneurial Leaders, Inside The Minds of Regulators, and more.
"Our goal was to show them the contrast between emerging markets and developed markets," said Karen Roux, managing director at Duke CE in Johannesburg, South Africa. "It allowed them to see how companies operate here, witness the hustle and bustle, and develop the critical thinking that enables them to pinpoint what they need to change."
Program Participant Ntombi Ngema, global head of the Sanctions Desk at Standard Bank in South Africa, said the ethos behind the Duke CE program is to give participants a globalized view, as well as the tools to occupy a more senior leadership role.
"There's a leadership crisis in the African continent at the moment," she explained. "We have a bunch of mature elderly leaders who are phenomenal, we have a very vibrant youth, and in between, there's a vacuum. This program helps fast-track those who are almost ready so that, as these senior guys retire, we are ready to take the reins."
Shahin says he has succeeded in signing strategic partnership MOUs with other prestigious universities like the University of Cambridge and more recently, the University of Chicago, all of which serve the university's goals of advancing LAU's entrepreneurial impact.