Spreading a culture of respect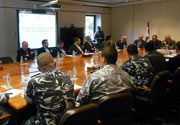 The most successful participants will be selected to become trainer of trainers.
Click on photo above for larger version.
December 7, 2012—
LAU's Institute for Women Studies in the Arab World (IWSAW), in collaboration with Restart Center for Rehabilitation of Victims of Violence and Torture, launched its first series of trainings for law enforcement personnel in Lebanon.
The project's goal is to foster a culture of respect for human rights within the Lebanese detention system, with special emphasis on the needs and rights of women inmates.
At the opening ceremony on December 3, LAU President Dr. Joseph G. Jabbra reminded audience members how vital it is for LAU - which started as a school for girls in 1835 - to be a strong advocate for women's rights. Enumerating the various achievements of IWSAW in Lebanon and the region, he said "In order for us to continue being successful in this field, civil society, academic and state institutions need to work together."
The message was well received by the members of the Internal Security Forces (ISF) who attended the five-day training - the first in a series of six sessions involving 150 trainees in total.
"It is also crucial for us to participate in such trainings," said one ISF member, who preferred to remain anonymous. "My colleagues and I have taken part in a large number of specialized workshops and there is always something new to learn."
The 30 participants are in turn expected to train those they supervise. "The added-value of such training is that we don't walk out leaving behind what we were taught; it will eventually be shared with 23,000 ISF staff," he said.
The training program will cover international treaties, human rights standards, and rights of prisoners and detainees.
"This program is very important because international treaties supersede the national law that already carries human rights at its core," said Colonel Kaed Bey, who represented ISF Director Major General Ashraf Rifi. "Therefore, human rights are not an ISF personnel choice, but a must."
Thanking ISF for its continuous support, Dr. Dima Dabbous-Sensenig, director of IWSAW, reminded the audience that although prisoners are deprived of their freedom, they have the right to be treated with humanity and dignity."
IWSAW's work in female prisons dates back to 2001 and culminated in the publication, earlier this year, of the Guide for Working in Women Prisons in Lebanon, written by the institute's assistant director Anita Nassar.
Restart Center Director Suzanne Jabbour expressed the hope that the five-day session would offer real, interactive participation, calling on the participants to use their teachings in the field.
After the program concludes, IWSAW plans to work with other organizations to disseminate the training material to all governmental and non-governmental institutions working in Lebanese prisons. The most successful participants will be selected to become "Trainer of trainers."
Capacity Building for Law Enforcement Personnel in Lebanon is funded by the Open Society Institute-International Women's Program.