Stage of youth
Lina Abyad's latest major theater production invokes the muse of childhood memory.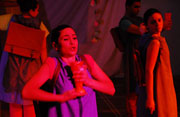 Theater-goers and members of the university drama community praised Lina Abyad's compositional method.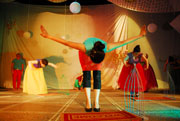 A scene from the play where actors are seen standing on doormats miming the tyrannical tone of parents trying to edify their children.
Click on the photos above for larger version.
 The child in us may never die; sadly, however, it sometimes goes into hibernation. Fantasia Opus3, this season's major theater production, is at once a lavish, colorful spectacle and a bittersweet reminiscence of boyhood designed to awaken even the most dormant inner child.
Directed by assistant professor of communication arts Dr. Lina Abyad, Fantasia Opus3 turned the Gulbenkian Theater into a time machine, transporting the audience to their schooldays and fatuous first loves, revisiting adolescent pipe dreams through the lens of adult desire.
The production initially took shape almost entirely through improvisation. The first draft of the script was composed by Abyad as a kind of collage of the actors' impromptu recollections of their earliest memories.
"We didn't really know what the play would be about at first," she recalls, "but we talked a lot about childhood, schooldays, and longing for love. We taped everything, and finally identified the recurrent themes and began working on them."
The result weaves together embarrassing fracases, haunting insecurities, ingenuous crushes, and sensory firsts — at once ephemeral and indelible — into a tapestry of nostalgia and pain.
Curiously enough, the Communication Arts Department's very first productions in the early 1960's were children's plays, notes Dr. Mona A. Knio, associate professor of theater and the department's chairperson. "Abyad's improv-based production was ultimately — and uncannily — reminiscent of the department's early theatrical work," Knio says.
The surreal set — the stage is draped in white and pastels and lit by lanterns — was designed, says Abyad, to invite the audience to be part of the play, to send them into reverie.
"You have to give them — from the very beginning — an idea of what to expect from the play, which is why the colors of the set are very soft and light," she says. "This is a very light play."
Light as it is, Fantasia Opus3 is not devoid of melancholy, the trace of sadness that can tinge youth both as it it's lived and as it's remembered.
In one scene, the actors — scattered on the stage, dressed in technicolor garments, and holding cages — are standing on doormats, miming the vehement, sometimes even tyrannical tone of parents trying to edify their children.
Comments that seem benign in the individual instance — "remember to say thank you," "don't pick your nose," or even "don't mention that you're doing theater in front of grandma" — become oppressive in the aggregate, and can leave an elusive scar on youngsters, one they may obsessively revisit as they grow older.
In another scene, a young woman draped in white wanders the stage recalling the 2006 war in Lebanon — fondly, as paradox would have it, because awful as it was, it brought her and her family closer together, and taught her to appreciate life's small blessings.
"It is practically impossible to talk about memories in a Lebanese context and not evoke one war or another," explains Abyad. "I provoked the actors, and the result of those provocations was the play's raw material. All I did was edit, rearrange and design it into a script."
Theater-goers and members of the university drama community praised Abyad's compositional method. "The authenticity creates audience intimacy — people can relate to it almost immediately," says LAU theater coordinator Hala Masri.
Peter Matar, an architecture student at Académie Libanaise des Beaux Arts (ALBA), concurred. "I felt the actors themselves were my memories," he said.