Stand-up comedy and student competitions entertain the LAU community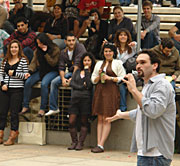 The stand-up comedian entertains the crowd with short, humorous stories.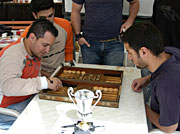 Byblos students compete in the backgammon tournament.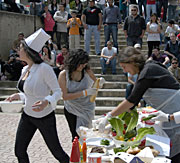 Students participate in the sandwich-wrapping competition.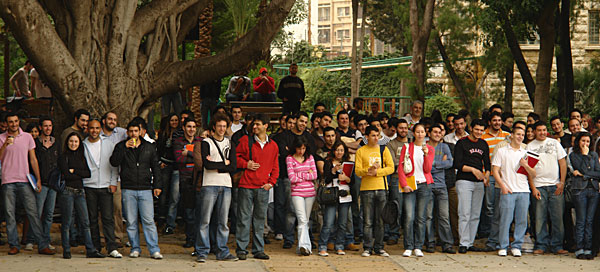 The enthusiastic student crowd in Beirut breaks into laughs at Abou Nassar's routine.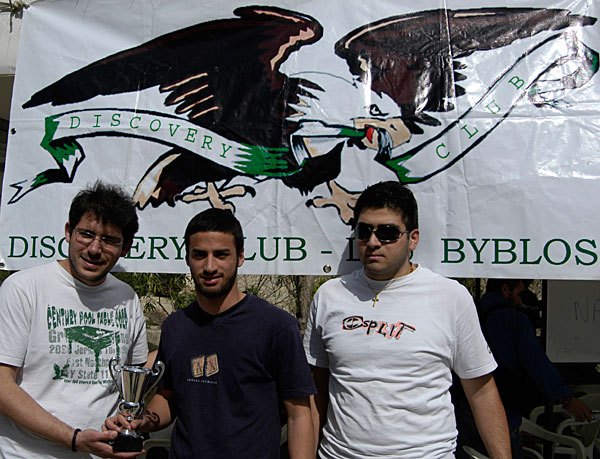 The winner receives the backgammon tournament cup.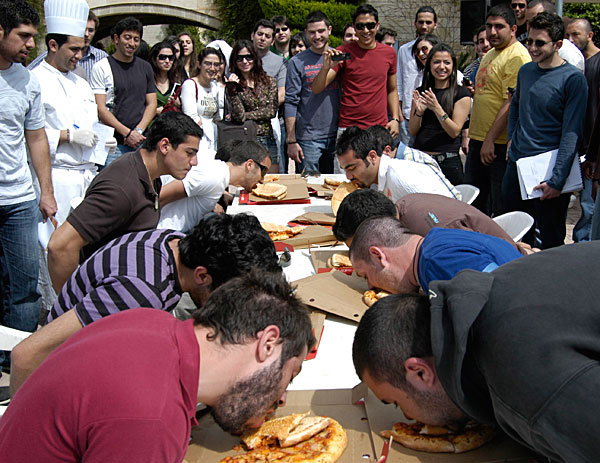 The fastest pizza eaters line up and compete in the presence of spectators.

Click on any photo above to view all six images
March 31, 2008—
A stand-up comedy, a backgammon tournament, and a food competition were only three of the several activities that brought fun to and actively involved students, faculty and staff this month on the LAU campuses.
The humorous performances of stand-up comedian Nemr Abou Nassar in early March offered members of the LAU community an amusing break. Abou Nassar is known for his stand-up shows, such as his participation in the "Axis of Evil Comedy Tour" in Lebanon.
In Byblos, the audience assembled at the Selina Korban Theatre, and in Beirut an enthusiastic crowd gathered in front of the Safadi Fine Arts Building to watch Abou Nassar's routine.
Besides engaging the crowd in laughter, he also promoted his Casino du Liban shows, the entire proceeds (around $50,000) of which will go to the Children's Cancer Center of Lebanon.
Later in the month, a backgammon tournament and a food competition in Byblos allowed students to enjoy themselves not only by being spectators but also by actively participating in competitions.
In the backgammon tournament organized by the Discovery Club in mid-March, students competed with faculty and staff members. They also enjoyed Lebanese coffee served by the club in the area next to the cafeteria.
Students also had fun participating in the sandwich-wrapping and pizza-eating competitions organized by the Campus Life Club a few days ago. A professional chef was present to evaluate the participants, who won prizes in front of a crowd of students gathered near the Science Bridge.
To learn about similar upcoming activities, check out the calendar of events.