Student satisfaction survey yields favorable results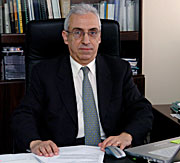 Dr. Abdallah Sfeir, vice president for Academic Affairs.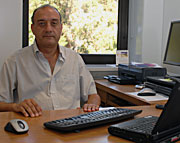 Dr. Elie Badr, assistant vice president for Academic Programs.

October 29, 2008—
According to the recent results of the National Survey of Student Engagement, first- and last-year students in the academic year 2007–2008 judged their experience at LAU as very positive.
Administered by the Indiana University Center for Postsecondary Research in cooperation with the Indiana University Center for Survey Research, and conducted by a private agency, the survey aims at helping universities compare themselves with around 300 similar institutions in the U.S. and Canada, as well as six specific ones of their choice.
This year's final report, released at the end of August and presented yesterday to the Council of Deans, concluded that 92% of sophomores and 90% of seniors evaluated their entire educational experience at LAU as good or excellent.
Of the five factors measured—level of academic challenge, active and collaborative learning, student-faculty interaction, enriching educational experiences, and supportive campus environment—the third one improved notably this year, while the last two have been consistently excellent since NSSE began at LAU three years ago on the initiative of Dr. Abdallah Sfeir, vice president for Academic Affairs.
"There was an improvement of around 5 to 10% [on all levels] over previous years," said Dr. Elie Badr, assistant vice president for Academic Programs. He explained that the necessary corrective actions the different LAU departments have taken based on previous NSSEs are showing in the results.
"The survey also shows that we are serious about assessing student learning," said Badr, explaining that this is important for NEASC accreditation. "You cannot speak of accreditation nowadays without saying that you're doing something about assessment," he added.
Although there are many ways to measure the quality of a university, the advantage of NSSE is that its data "focus on … how students actually use institutional resources for learning and how they feel about the quality of their educational experience," writes the NSSE official website.
NSSE is emailed in March to a random sample of sophomores and seniors, allowing the university to evaluate how opinions vary over the course of their study years.
A similar survey called the Faculty Survey of Student Engagement is also conducted annually. The two surveys are then compared for consistency between student and faculty opinions. This year, LAU had a satisfactory level of correspondence on all the questions.
This year's NSSE response rate was slightly lower than usual because of Lebanon's unrest during May, when the student answers were expected back. Badr explained that to capitalize on the results, the rate must be higher. So, he added LAU intends to publicize and inform its constituents, especially the students, more about NSSE. This time, for example, incentives were offered to students: names of participants were put into a draw to soon win three laptops and 15 iPods.