Students show off a brilliant display of art, with more to come
In pictures — Fine arts and foundation studies students reveal their creativity and imagination during end-of-year exhibitions in Byblos and Beirut.
In pictures —
Neither exhibition room at LAU Byblos and Beirut even came close to accommodating the hundreds of art projects that were displayed in the different fine arts and foundation studies end-of-year exhibitions this month.
The exhibits offered a brilliant display of colors and concepts from a rich variety of projects that included paintings, photography and architectural models.
The works of fine arts and foundation students in Byblos were combined into one exhibition that took place from June 9-15, but were divided in Beirut because of the higher number of students.
Foundation students in Beirut displayed their works from June 15-21, and the fine arts exhibition will open on June 24 at 3:00 p.m. and run till June 30 (daily from 10:00 a.m.- 4:00 p.m.) at the Sheikh Zayed Hall.
Byblos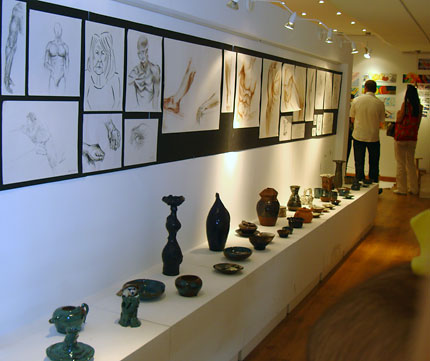 Ceramics projects were among the hundreds on display from the 100 or so students that participated in the Byblos exhibition, at the Rima Hourani Exhibition Hall.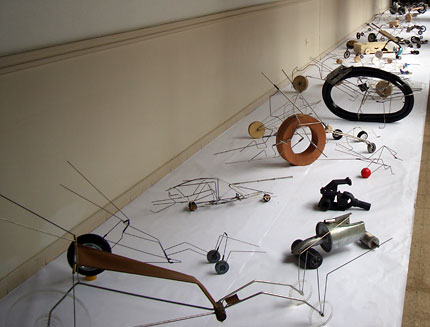 Student projects spilled outside the main exhibition room into the hall because of the space restrictions. Above are architecture concepts for a visionary shuttle that Batman could use, which were designed after studying the physical forms of insects.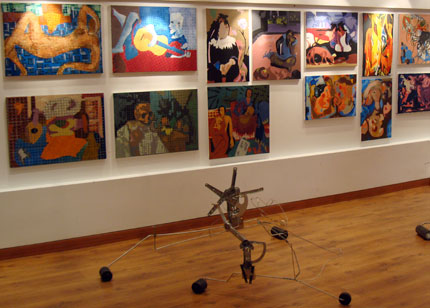 A series of paintings hung above one of the Batman concept vehicles inside the exhibition room.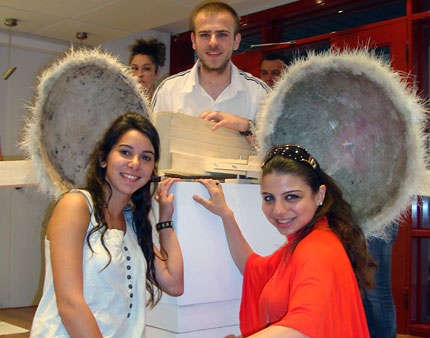 Fadi Haddad, a first-year architecture student, with his "flying building." Students Leah Dunia (left) and Joy Salameh pose under under its wings.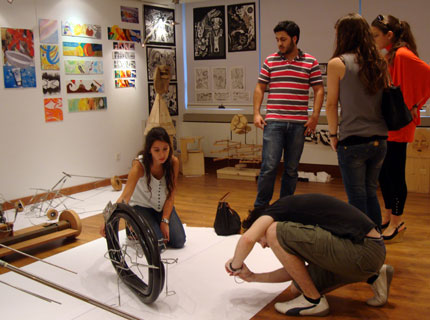 The end-of-year exhibitions were the first of their kind organized by the Fine Arts and Foundation Studies Department under the banner of the new School of Architecture and Design.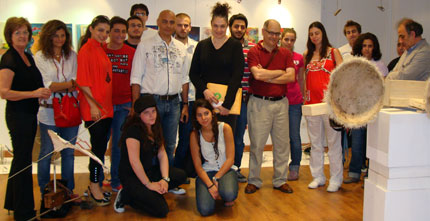 Students pose with their instructors during the exhibition's launching.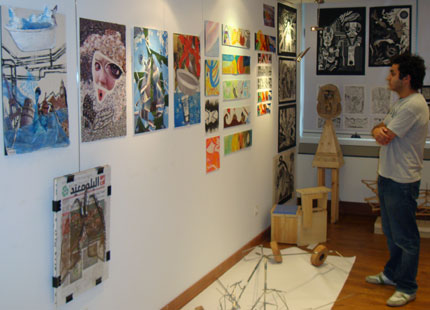 "This exhibition shows the efforts our faculty have put in guiding and forming our students," says Silia Abou Arbid, the co-chair of the Fine Arts and Foundation Studies Department who organized the two exhibitions. "But most importantly, it's an exhibition that displays the work of which we are proud," she adds.
 
Beirut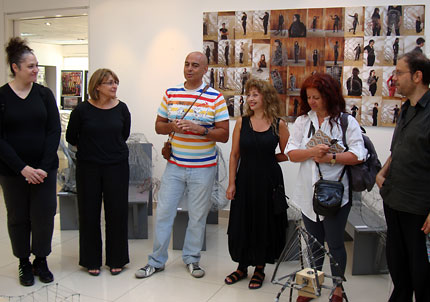 Faculty members during the launch of the foundation students' exhibition in Beirut. From left: Abou Arbid; Mithra Zahedi, visiting professor; Rached Bohsali, chair of the Fine Arts and Foundation Studies Department; Arwa Seifeddine, instructor of interior architecture; Gretta Khoury, a part-time faculty member in the department; and Hani Asfour, also a part-time faculty member.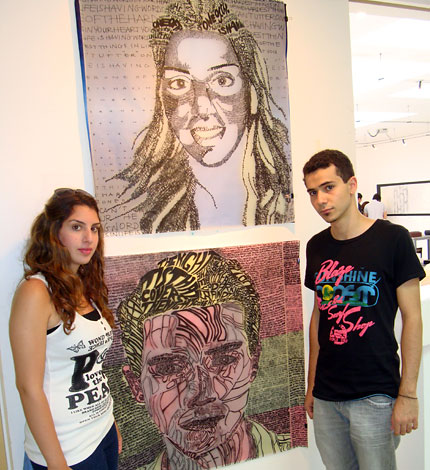 Cousins Reine and Muhammad Jalloul pose next to portraits they created by tracing their faces on paper, then filling in the dark and light areas with a repeating verse. The portraits were then blown up and colored.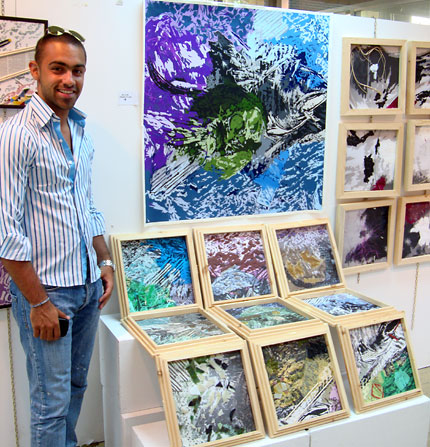 Student Jad Ajib describes his two-part project. The main painting on top depicts the head and tail of a fish which have been separated by obstacles, a metaphor for life. The nine small paintings underneath are the same as the image above, but divided and overlapping.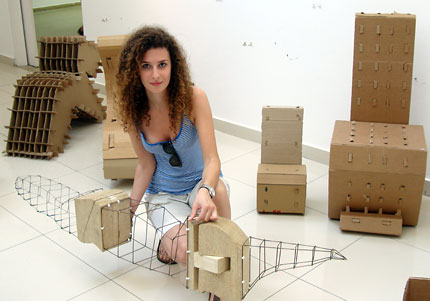 Nour Chamoun holds her design studio project.
There were several similar projects laid out across the exhibition floor, each of which had two joints that move in different directions. The project aimed to explore the relationship of an object to the ground.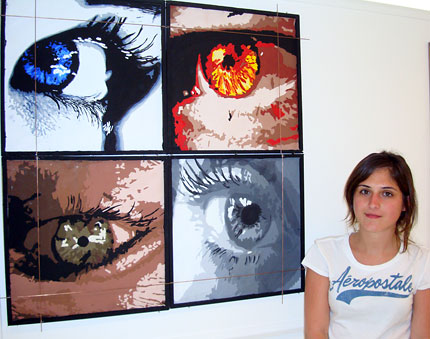 Along with her classmates, Sherine Zein was asked to create a four-piece set, with each piece representing an element in nature.
"I chose the eye because I've always considered it to be the fifth element in nature," she says.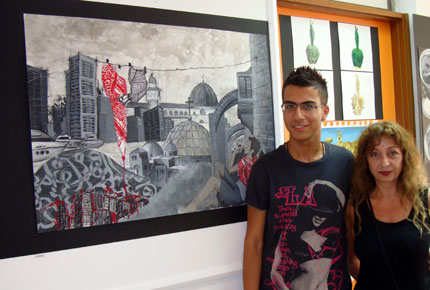 Ali Shehade, a half-Lebanese, half-Palestinian student, stands between his instructor and a piece he created to connect the two worlds (Lebanese and Palestinian). A clothing line, from which a blood-dripping kuffiyeh hangs representing the Palestinian struggle, he says, crosses over the Beirut skyline to Via Dolorosa, a famous street in Old Jerusalem.
"It has emotion," says Seifeddine, describing the painting. "When you do something with your heart, it has a powerful impact."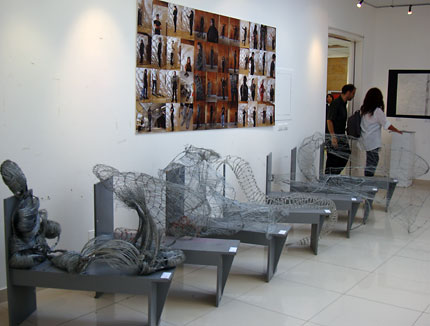 Using mainly metal wire, students from a design studio course chose a human body part to exaggerate and mold. The concept behind the project was to challenge students to think critically about objects and space.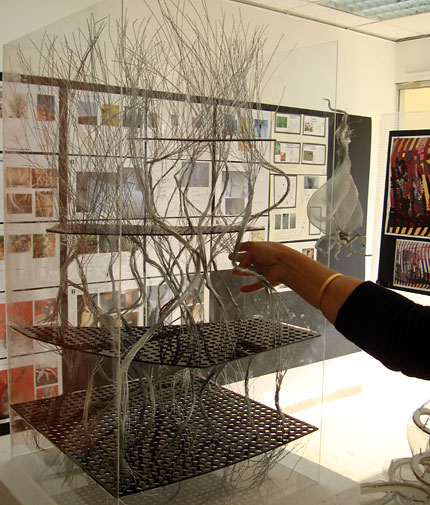 Some students studied the structure of plants and trees to understand the principle of how things in nature grow and are supported.
This project by Mira Ghandour uses metal wire to illustrate how the layout of roots are essential for trees to grow and stand horizontally.