Students showcase designs at end-of-semester exhibits
Lebanese towns, contemporary ideas inspire architecture and design students from both campuses.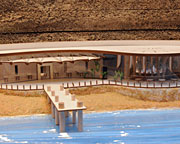 Cecilie Albrigtsen's seafood restaurant model.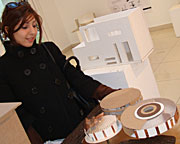 Youmna Najjar shows her design of rotating houses.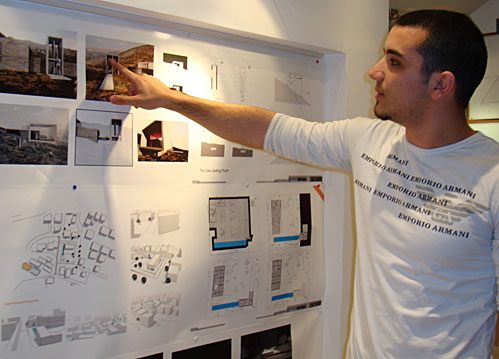 Rony Hobeika explains his ski school blueprint.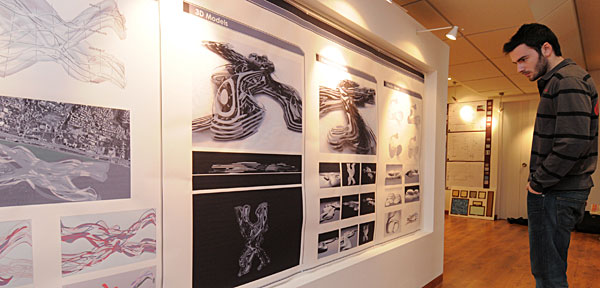 A visitor admires the Dbayeh waterfront sketch proposed by Byblos students Salli Habib, Jihad Harmouche and Elias Hanna.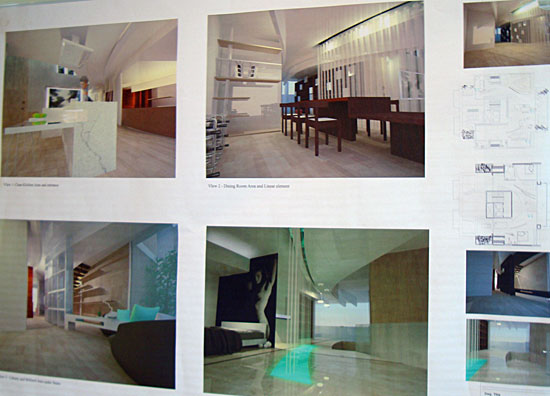 Mireille Salti's work.


A view of the Rima Hourani Exhibition Hall, where the works of Byblos students were displayed.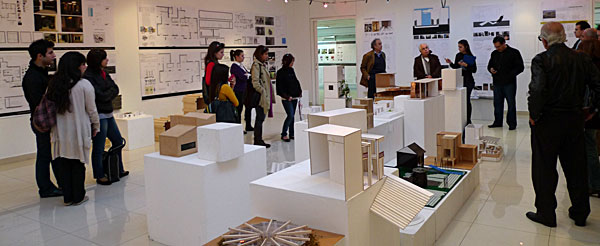 Opening of the Beirut exhibition.
Click on any photo above to view all seven images
LAU students displayed their creative endeavors last month at the end-of-semester architecture and design exhibitions on the Beirut and Byblos campuses.

Works included models of new structures or recreations of existing buildings envisioned by junior and senior students.

Picturesque Lebanese towns such as Byblos, Faraya, and Dbayeh provided a stunning backdrop for some Byblos students' works inspired by the country's rich history and nature.

Byblos interior design student Cecilie Albrigtsen's passion for Phoenician history motivated her design of a seafood restaurant underneath a museum.

Albrigtsen chose the venue based on the museum's vicinity to ruins housing King Ahiram's sarcophagus, on which the Phoenician alphabet was discovered. Albrigtsen's unique vision allowed for public access to the museum without entry to the restaurant.

The Beirut campus exhibition featured equally fascinating contemporary designs.

Students Youmna Najjar (architecture) and Mireille Salti (interior design) created rotating houses based on a three-dimensional sphere and a duplex apartment based on the structure of wind lines, respectively.

Other students built a two-floor architect's house with an atelier on the rooftop, and a maze house consisting of guest, teaching and family areas.

Other projects displayed by Byblos students included a house designed by architecture student Nasri Nasri. After creating eight models, he was content with the outcome—a juxtaposition of linear aggression and tranquility. Nasri fashioned each room in squares while crafting a roof to allow natural light. 

Byblos student Rony Hobeika designed a hostel and ski school in Faraya. With the splendid beauty of the region in mind, Hobeika strategically planned a path connecting the Wardeh region with the resort. He created various playing fields and sightseeing points along the course.

Starting this academic year, each LAU campus will have its end-of-semester exhibition. The strategy is geared to create dialogue among peers, said Architecture and Design Chair Maroun Daccache.

"The idea is to have professors and students interact and talk about their works," explained Associate Professor Antoine Romanos at the Beirut event.