Study: Almost a third of Burj el-Barajneh residents afflicted by mental disorders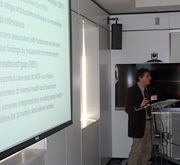 The findings of an LAU–MSF study on mental health disorders among Burj el-Barajneh camp residents are presented at LAU by Dr. Augusto Llosa, the study's principal investigator.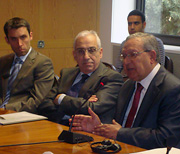 From right: Dr. Abdallah Abdallah, the Palestinian ambassador to Lebanon; Dr. Abdallah Sfeir, LAU provost; and Dr. Pierre Bastin, MSF's mental health advisor in Geneva.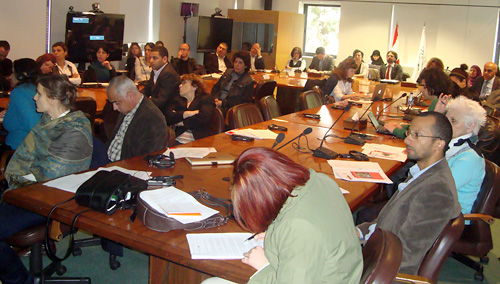 The findings were announced during an LAU Beirut event on April 11.
Click on any photo above to view all three images.
May 6, 2011—
Researchers announced that 29 percent of the residents at the Burj el-Barajneh Palestinian refugee camp suffer from at least one mental health disorder, during a conference at LAU Beirut on April 11.
The study, titled "Assessment of the Prevalence of Mental Health Disorders Among Adults," was jointly conducted by LAU and Medécins Sans Frontières (Doctors Without Borders), and was based on interviews with 748 adults from 283 households that took place between June and November 2010.
"There is reason for concern when we have a population facing risk factors associated with poverty, war and displacement, which place individuals at increased vulnerability for developing mental disorders," said Dr. Augusto Llosa, the study's principal investigator.
He identified those risk factors as insecurity, hopelessness, poor physical health, rapid social change, and limited opportunity.
Among the mental health disorders discovered among residents, the most common were mood disorders, afflicting 21 percent, followed by anxiety disorders (13 percent) and psychosis (3 percent).
The study also revealed that 96 percent of those afflicted had not sought treatment, despite medical and mental health services available at the camp by MSF.
Dr. Samar Zebian, assistant professor of psychology at LAU who served as a research consultant for the project, attributed the treatment gap to a two-fold lack of awareness.
"Sixty-one percent of the participants in this study felt they didn't have a problem, and 64 percent believed there weren't services to help them," Zebian said. "Those who recognized they had problems weren't aware of the help available to them."
In his opening remarks, Dr. Abdallah Abdallah, the Palestinian ambassador to Lebanon, thanked MSF for its services to Palestinians in Lebanon and Palestine.
He cited previous studies revealing widespread poverty among Palestinians in Lebanon, noting that Palestinians face employment barriers in the country.
"Our residents are not healthy, the economic situation is bad, and the overcrowding is terrible," Abdallah said. "Many of our students are dropping out of school. They say, 'If I finish and receive a degree, I'll still be unable to work, so why should I waste my time?' This is a major problem for our young generation."