Supporting Lebanon and its new generations
A profile of LAU donor Albert Matta.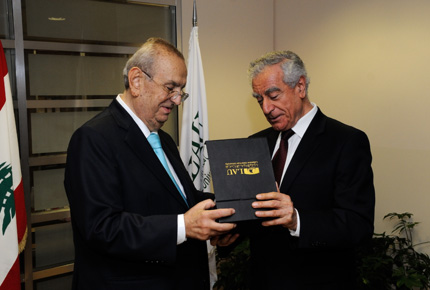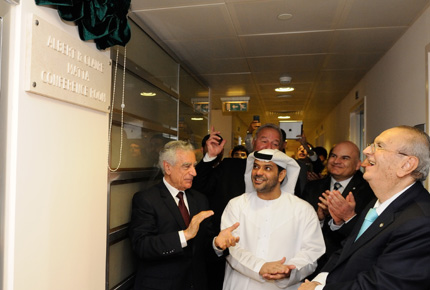 Recently, LAU named a conference room in the School of Business in honor of the president of the World Lebanese Cultural Union (WLCU) Albert Matta and his wife Claire, in recognition of their generous donation to the university. "LAU is really privileged to have someone like him supporting the cause of education," emphasized the university's president Dr. Joseph Jabbra, calling Matta "a friend and supporter of LAU and of academic life in Lebanon and the region."
The WLCU represents the Lebanese diaspora globally, a task well-suited to this successful Emirates-based engineer and businessman, who is personally familiar with both the pull of a professional life abroad and the simultaneous desire to give back to one's own country.
Having earned degrees in engineering from the American University of Beirut and Delft University in the Netherlands, Matta left Lebanon to seek new opportunities in the Gulf. He arrived in the sheikhdom of Abu Dhabi in the late 1960s, just as the seven emirates were about to unite and form the UAE. In this pioneering period, Matta worked as a construction and engineering contractor and consultant, building Abu Dhabi's first hotel and investing in several other building projects. Well-integrated into the business world of his second home, Matta joined the board of the Abu Dhabi Council for Economic Development (ADCED).
In addition to his professional accomplishments, Matta devoted himself to building lasting ties between his Lebanese homeland and the Emirates, founding the Lebanese Business Council in Abu Dhabi and becaming president of the WLCU in 2010. The latter is the only Lebanese organization recognized by the Lebanese government to represent Lebanese expatriates abroad. "We aim to promote our cultural aspects throughout the world, unite people of Lebanese origin and help them go to school, graduate, build places of worship, and preserve their heritage," says Matta.
The first president of the UAE, Abu Dhabi's Sheikh Zayed bin Sultan Al Nahyan, was not only the principal architect of the Emirates but also a noted philanthropist, a fact that left a deep impact on Matta. "He was the greatest man I met in my life," avows the WLCU president. "It was his generosity that inspired me. With Sheikh Zayed you learned how to give and how to love."
That giving spirit came to define Matta's own relationship to his homeland. "Abu Dhabi was the best place for me professionally, but Lebanon made me the man I am," he attests, recalling his indebtedness to a scholarship he received that enabled him to complete his schooling. "We should not forget Lebanon even if you become a billionaire," he emphasizes, advising future generations to "try to work outside the country at the beginning so you can gain international experience, but don't forget Lebanon."
For Matta, giving to LAU is equivalent to directly supporting Lebanon and its new generation. Unveiling the conference room plaque at the School of Business, Albert Matta beamed. "I am honored, along with my wife Claire, to be here at this deep-rooted tower of high learning to encourage science and research," he asserted, "and to support all initiatives that aim to enhance confidence in Lebanon, and stand alongside the youth in their pursuit of education and their goal of a prosperous, secure and stable future."