The Blind: Theater production brings to life people's fear of change in an uncertain world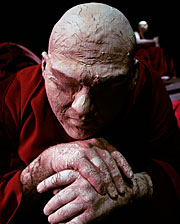 One of the blind characters in a state of paralysis.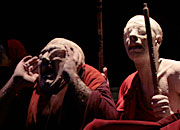 Vivid expressions of fear by two actors.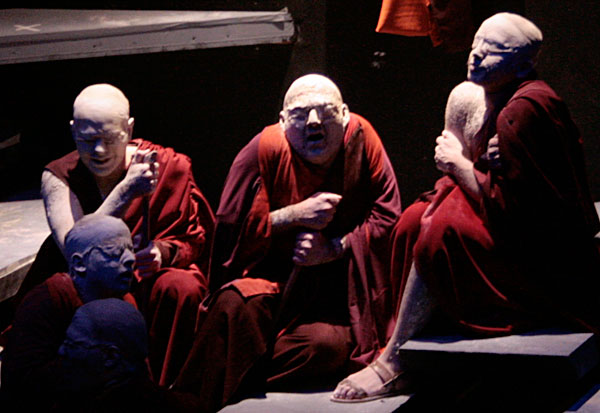 A group of blind men sitting on the unstable pieces of wood.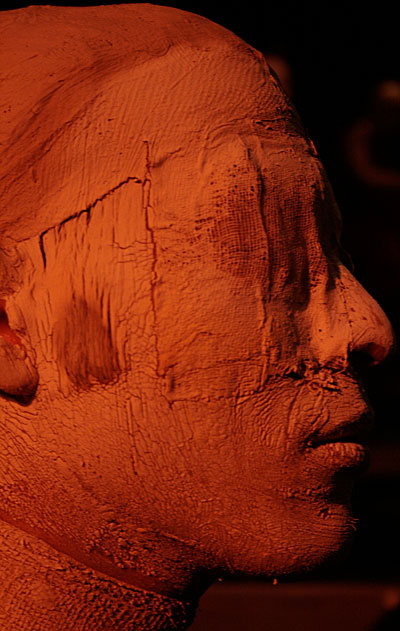 A close-up of an actor's face covered with clay and fabric.
Click on any photo above to view all four images
June 6, 2008—
The Blind, a play reflecting how people become paralyzed when confronted by change in an unpredictable world, was featured as this year's spring major theater production, staged for five days in the Gulbenkian Theatre last week.
Twelve blind men and women—played mostly by LAU students enrolled in Director Lina Abyad's Theater in Performance course—find themselves stranded by their guide in the middle of the forest. As the play opens, one of them stands up and starts walking, but after he stumbles, they all decide to stay in their places, awaiting their guide's return. Their overwhelming fear keeps them immobilized for all but the last five minutes of the 43-minute production.
The actors—all of the men rendered bald—were dressed in red and orange Tibetan monk robes. With their skin plastered in clay and their faces covered by fabric, they could only see through a sliver. Floating slabs of wood in the shape of a boat covered the stage. When the actors stood or attempted to walk, the planks trembled because of the uneven gaps between them. Under the stage was a pool of water—unseen by the blind actors—making the audience feel the constant presence of potential danger.
Departing from her usual practice, Abyad had the actors memorize their lines before the rehearsals. She had them rehearse blind (for over 200 hours), so they could "discover what it means to listen to each other."
Abyad said she was pleased with the attitude of her novice actors (most of whom had never acted before), having "embraced the project seriously."
For the past nine years, Dr. Abyad—an assistant professor in the Humanities Division of LAU's School of Arts and Sciences—has directed the university's spring major theater productions.
She usually chooses plays with political and social themes that "talk about the world, [and are] not art for art's sake." However, she stressed that the substance of The Blind is more philosophical than political. The Lebanese can be compared to the characters in that they currently find themselves "in a very dramatic situation" over which they feel they have little control.
The process of picking a play is akin to falling in love, as Abyad described it. She first read The Blind 25 years ago and knew that at some point she would stage it. She went to great lengths to secure the script, it being out of print. She finally found a used French book published in 1903 on the Internet, which she then translated into colloquial Arabic with Rachid Al Daiif.
When first considering it for this production, she thought it was too black, terrible, and morbid; but after putting it aside, the characters kept coming into her dreams. These nightmares forced her to reconsider. "The play picked me. … I didn't pick it," she said.
Originally written in French in 1890 by Belgian playwright and winner of the 1911 Nobel Prize in literature Maurice Maeterlinck, The Blind is symbolic, absurd, pessimistic, existential, poetic and "in a loose way tragic," according to Abyad. It is considered to have influenced other playwrights such as Alfred Jarry, Harold Pinter and Samuel Beckett, most notably in Waiting for Godot.