The Lebanese pilot behind America's pita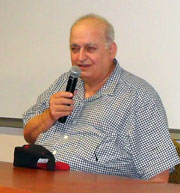 LAU Board of Trustees member Joseph Maroun gave a talk at LAU about his success as a baked-goods tycoon in America, weeks after the ex-airline pilot sold his bread empire.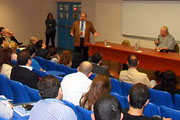 At the end of Maroun's talk, Dr. Walid Touma, an assistant professor in LAU's School of Business and director of the University Enterprise Office, told business students: "Vision, leadership, and values all pay off — there is a humongous human being in all of you. You just have to play it."
April 22, 2010—
He is the airline pilot that jumped careers and became a baker to introduce Lebanese pita bread to the American masses in the 1970s. What he developed is not short of an American baking empire.
Esteemed LAU Board of Trustees member, Lebanese-born Joseph Maroun gave an inspiring talk to School of Business students, faculty and staff on April 16, at LAU Beirut, about his rise to the top of the American baked-goods industry with his company Caravan Trading, after experiencing a successful and glamorous career as a pilot at Pan American airlines in the late '60s and '70s.
Last month, after more than 30 years since first starting Caravan Trading Company, Maroun sold his baking empire to an eager buyer that paid him exactly what he asked for, saying: "The joy of it all is the number that we sold the business for: $68 million up front. They gave my kids three-year contracts and doubled their salaries."
"When you have a dream you have to pursue it at odds with anybody," he told the crowd. "I wanted to achieve what I set out to do, and I did."
Caravan sells products to some of the largest baking retailers and consumers in the United States, including George Weston Bakeries, Thomas', Bimbo Bakeries (Oroweat), Otis Spunkmeyer, and the Department of Defense. The company is the trusted provider of Meals Ready to Eat for the U.S. military, and the creator of the Ready-To-Go Emergency Food Kit for disaster situations.
His recipe for success
Maroun immigrated to the United States as a teenager in the 1950s, in pursuit of an education in aeronautics, and in 1963, he graduated from the Pittsburgh Institute of Aeronautics with a degree in aircraft maintenance engineering.
With a passion to fly, Maroun earned instrument, private, and commercial licenses and a certificate in air transport, and his determination landed him a career in aviation, where he worked as engineer and pilot with such giants as Pan American Airways and the Federal Aviation Agency.
"I only wanted to fly," he said.
While he was working for Pan Am, him and his wife missed the simple things from Lebanon, especially pita bread. They decided to try and figure out how to make it at home. It took them six months of trial and error — before someone told them to use yeast.
Maroun came to Beirut and learned the tricks of the trade during his weeks off, and quickly decided he wanted to establish his own company.
He was so ecstatic with the result, he decided he wanted to quit being a pilot and open a bakery — he was only in his mid-30s at the time and had already been made a captain. But it was a decision he felt strongly about.
"After being a pilot, you become a gambler," he explained to the attentive audience. "As a pilot you gamble a lot, like on the weather when you're flying."
After quitting, he bought an old pizza oven — "because I couldn't afford anything else at the time," he said — and put his engineering background to use by making all the necessary modifications to it.
"I couldn't afford employees so I called up all the pilots and stewardesses I knew and asked them to come and help me if they weren't flying," he told the smiling listeners. "I had a mix of pilots and stewardesses making pita bread with me."
The rest, as they say, is history. "Within six months of opening, I was forced into automation," explained Maroun, recalling the day he got a call from one of American's biggest supermarket giants, Safeway. "Within six months, we had a semi-automatic plant together, running 24/7.
Maroun has served on LAU's Board of Trustees since 1996. The couple founded The Joseph and Carmen Maroun Endowment Scholarship Fund to ensure equal opportunities to deserving, financially disadvantaged LAU students.
"Vision, leadership, and values all pay off. The value of what Joe has done to give back to society — well Joe has done it in a very honorable way," said Dr. Walid Touma, an assistant professor in the School of Business and director of the University Enterprise Office, at the end of Maroun's talk.
Touma looked toward the students and told them: "There is a humongous human being in all of you. You just have to play it."