The role of youth in civil society is crucial, experts say
LAU students bring public figures together to debate the importance of youth involvement in public life.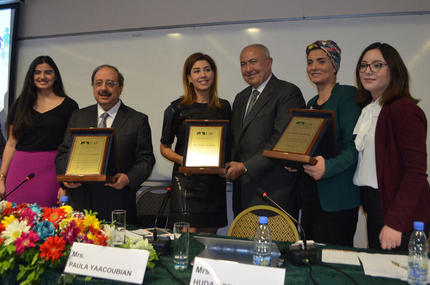 The role of youth in civil society was the focus of a panel discussion organized earlier this month by the LAU Citizenship Club at LAU Beirut. MP Ghassan Moukheiber, journalist and political strategist Paula Yacoubian, Beirut Municipality Council member and President of Beirutiyat NGO Huda Usta Kaskas, and president of the student club and activist Paula Nawfal debated the importance of youth involvement in improving Lebanese institutions and mitigating daily struggles.
Only a few kilometers away, parliamentary sessions were underway in Downtown Beirut, but Moukheiber preferred to attend the panel discussion instead. The audience, among whom was businessman and National Dialogue Party founder Fouad Makhzoumi, listened to Moukheiber implore the youth not to succumb to the frustrating social and political situation in Lebanon, which he said is characterized by corruption. He stressed the importance of "reinforcing citizenship as a means of commitment to public affairs," adding that "politics is too dangerous to be handled by politicians alone."
Highlighting the significant role of civil society in public affairs, Moukheiber listed five conditions crucial to the process, including a sense of citizenship and responsibility toward the government. "National identity is the first and foremost identity of all Lebanese," he emphasized.
Other conditions included serious commitment and action, such as participation in elections and civil society, as well as having one's independent opinion about public affairs issues, at a time when political propaganda controlled political life. He concluded by saying, "Don't think with your leader's mind, think with your own minds and have your own opinions."
As for Yacoubian, she pointed out how the Lebanese, especially the younger generation, are infused with fear since childhood, which makes them panic and run away from politics and from participation in public life. She added that other factors―such as the affiliation of TV stations with certain political parties―fostered division among Lebanese youth and prevented their unity, stressing the importance of belonging to the country first before any political group affiliation.
Reinforcing the role of youth in public life is also the role of municipalities, said Kaskas. Talking specifically about the Beirut Municipality, the activist explained that the institution could engage youth first by integrating them in the council's plan, and second by solving many of their problems such as garbage, traffic and road construction, as well as reducing health costs, securing green spaces and sports fields, increasing job opportunities, and developing their skills.
Shedding light on the role of the LAU Citizenship Club in motivating youth to get involved in political issues, Nawfal urged her fellow students to work toward lowering the voting age and improving statistical institutions, especially at a time when social media and technology allowed them to express their views and ideas freely.
In a Q&A session that followed, students raised issues such as the electoral law, voting age, and political patronage. The lecture ended with everyone agreeing that the role of youth is crucial in mobilizing political life, and hoping that their responsibility and enthusiasm will translate into effective action.