They say they want a revolution
Celebrating International Women's Day, IWSAW takes the long view of the Arab Spring and highlights women at the center of it.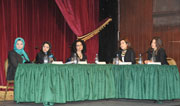 From left, Asmaa Mahfouz, Hanaa Al-Sayaghi, Mona El-Tahawy, Diana Moukalled and Alia Ibrahim.
Click on photo above for larger version.
 LAU's Institute for Women's Studies in the Arab World (IWSAW) celebrated the role of women in the fight against autocracy and oppression in the ongoing popular Arab uprisings with a discussion "Challenges ahead: Women, activism, social media and the Arab Spring," on March 5 at LAU Beirut.
"Women's roles in fighting for justice in times of revolution is not a new concept," said Dr. Dima Dabbous-Sensenig, director of IWSAW and assistant professor of communication at LAU Beirut.
"Many popular revolutions throughout history wouldn't have succeeded without the presence of women among the revolutionaries, often at the very vanguard of the movement," she added.
The discussion was organized to coincide with International Women's Day, marked each year around the world on March 8.
LAU President Dr. Joseph G. Jabbra, who took part in the event, underscored the centrality of social media to the recent uprisings, and noted that 36 percent of the 36 million Facebook and Twitter users in the Arab world are women.
"Women realized that information and knowledge epitomize power, and they seized this power very effectively by employing social media to foster the uprisings in the Arab world," says Jabbra.
A brief documentary film on the role of Arab women in regional revolutions was presented by Al Arabiya journalist Alia Ibrahim. Following the screening, journalist and author Diana Moukalled moderated a discussion with three women activists who related their experiences of the Arab Spring.
Asmaa Mahfouz, an Egyptian activist who came to prominence when a video she posted on Facebook and Youtube — calling for the Egyptian people to amass in Tahrir Square to demand their rights — went viral, spoke about the heady days of January 2011.
"There was so much anger within me. I was calling out for our rights and people were looking at me like I was crazy," she recalls.
Mona El-Tahawy, an award-winning Egyptian-American columnist who was beaten and sexually assaulted by the Egyptian riot police, also spoke about her experiences. The assault had left her with broken bones in her left arm and right hand, and treatment involved the surgical insertion of titanium plates.
El-Tahawy — who was detained for 12 hours by the Interior Ministry and Military Intelligence following her abuse at the hands of riot police — described the physical pain she endured as banal compared to its emotional reverberations.
"I could show you where the titanium plates were placed in my hand, but I can't pinpoint those that became part of my soul," she says.
El-Tahawy appeared regularly on major international media outlets during the 18-day revolution that toppled Egypt's President Hosni Mubarak.
Hanaa Al-Sayaghi, a Yemeni activist known for facilitating passage of relief convoys to demonstrators, spoke about the precautions taken by women protestors in Yemen.
"The majority of protestors were men, and we couldn't tell our families that we were at the demonstration, she recalled. "We told our families we were at work, while we were actually on the field protesting."
Anita Nassar, assistant director of IWSAW, concluded the ceremony by reminding the audience that gender equality is a sine qua non of social and political idealism.
"The watchwords of freedom, democracy and social justice — which are at the heart of human values — will always be incomplete and futile without women's rights at their core," she said.