Toward evidence-based medical teaching practices
LAU hosts international conference to promote quality medical education.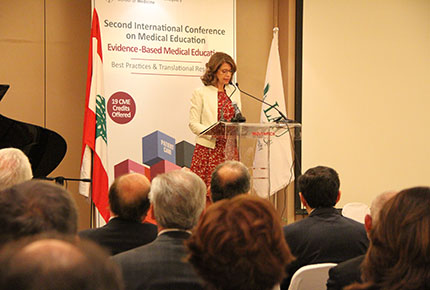 LAU's Gilbert and Rose-Marie Chagoury School of Medicine (SOM) – the youngest of the seven participating Lebanese medical schools – had the honor of hosting the second International Conference on Medical Education at the Mövenpick Hotel on November 19-21.
Local and international researchers, practitioners and educators reunited to address the challenges and opportunities that medical education is currently facing. Foreign and Lebanese guest speakers shared their expertise and knowledge on the conference's focal topic, "Evidence-Based Medical Education."
The event was made possible thanks to the close collaboration between LAU, through the person of SOM Dean Youssef Comair, and the University of Illinois, represented by Associate Dean for International Affairs Ara Tekian.
As Dr. Tekian put it, there is a moral imperative to think about whether medical education is fulfilling its role effectively. "Are we responding to the needs of the country?" he asked the audience, "and how much are we respecting the mission of our academic institutions?"
His fundamental contribution in enabling such a prestigious event was recognized by LAU President Joseph G. Jabbra, who expressed his gratitude on behalf of all participants. "We came together to provide an opportunity for this region to focus on medical education," he said, stressing the importance for Lebanese institutions to consult with the international community in order to push their quality standards forward.
Attending the conference is one of the few opportunities for Lebanese professionals in this field to gain advice from international experts without having to travel abroad. "I have been training graduates for a long time now and I want to be sure that what I am doing is right," said Ghazi Sakr, a practitioner at the Mount Lebanon Hospital. "I know the caliber of these people, and I am here to learn from the best."
As part of the event, the Chagoury Health Sciences Center in Byblos hosted a workshop on Simulation-Based Medical Education – a technology that utilizes simulated human patients to enhance the student's learning – held by Dr. Ross Scalese, assistant director of research and technology at the University of Miami Miller School of Medicine. Together with Tekian and other experts in the field, Scalese is also one of the masterminds behind the new diploma-granting Clinical Simulation course that will be offered by LAU's School of Medicine to all healthcare providers starting in January 2016.
Among the most distinguished guests was Dr. Dimitri Azar, dean of the College of Medicine at the University of Illinois and an internationally acclaimed ophthalmologist. He identified the issues faced by medical education as "diseases of the curriculum", wittily making up names like 'curriculoarthritis' or 'apoplexy curricularis' to describe the different types of misalignment between a curriculum's objectives, content and assessment practices.
"It is refreshing to see collaboration between the seven medical schools in Lebanon, and for this the organizers of the conference have to be congratulated," he said, asserting the strong ties that the University of Illinois has with LAU and Lebanon. "We are here to bring forward ideas, and make them relevant to a regional reality."
The conference, in its second edition this year, represents a major achievement and a clear recognition of the key importance of medical education standards – from the students' selection to their graduation. As Dr. Comair argued that the road is not free of obstacles, but "events like these are essential if we want to successfully overcome such challenges."