Tribute to the multifaceted legacy of Mai Ghoussoub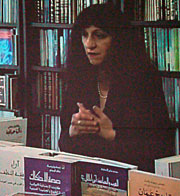 Ghoussoub in her London publishing house and bookshop Al-Saqi Books (From the excerpt of Al-Jazeera's interview with her).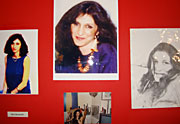 The many faces of Ghoussoub: "Let us all use this beacon and keep the flame of her amazing emotional energy alive," said Amanda Burrell, Director of the British Council.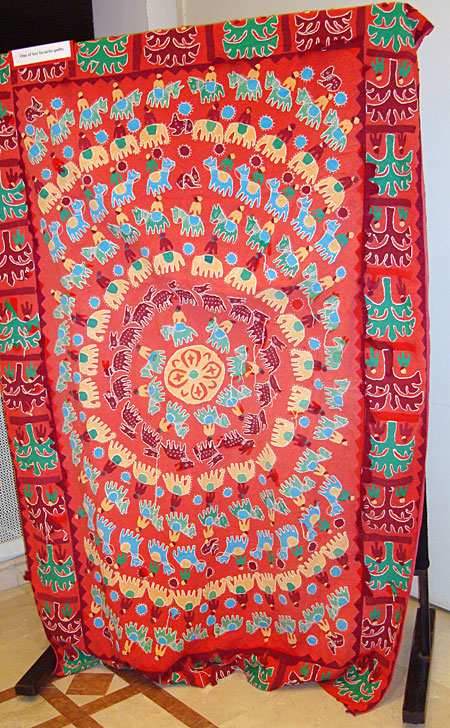 One of Ghoussoub's favorite quilts.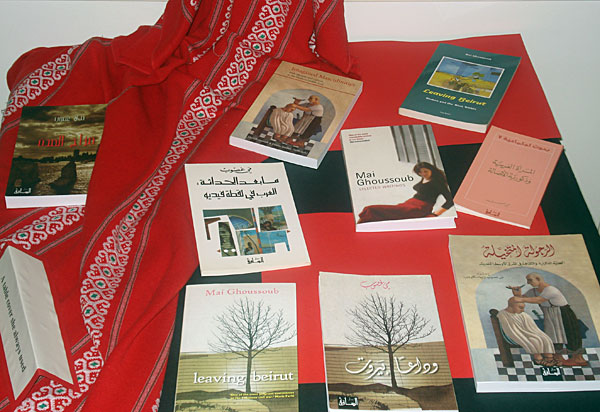 Mai Ghoussoub's books are showcased against a red background. Ghoussoub wrote stories about that color.


An exhibition after the tribute-paying event on March 6 displays Ghoussoub's artwork.

Click on any photo above to view all five images
March 13, 2008—
Marking International Women's Day, LAU honored the late writer, artist and activist Mai Ghoussoub at an event organized by the Institute for Women's Studies in the Arab World and the British Council last week on the Beirut campus.
"Justice and preserving human dignity for all" were Ghoussoub's main concerns, according to IWSAW Director Dima Dabbous-Sensenig.
Cris O'Connor, speaking on behalf of the UK Ambassador, said we should "seek to emulate something of her ability to reach out to those we can't easily understand; to invest our emotional energies in learning to empathize; and above all to recognize the essential importance of humanity."
The event drew diplomats, writers, colleagues and friends who share their admiration for the daring and often controversial Lebanese figure. The speeches, a ten-minute excerpt of a taped interview with Ghoussoub, and the exhibit of some of her sculptures, books and belongings all highlighted her multiple talents.
Ghoussoub's human side was described by her close friend, Roseanne Khalaf, who recalled numerous anecdotes. As a young woman, Ghoussoub refused to participate in fighting during the Lebanese war; she established a non-sectarian pharmacy that provided services to whoever needed them; and she lost an eye and sustained shrapnel wounds when a shell hit her car as she drove a man to hospital.
Her love of Lebanon was shown through the full-of-agony personal emails Khalaf received from Ghoussoub during the summer 2006 war in Lebanon. In one of them, she wished she were there. "It's awful to witness this hell from the screens and realize that one is helpless, unable to do anything to alleviate the pain," she wrote. Less than a year later, Ghoussoub died suddenly in London.
O'Connor stressed Ghoussoub's role "as a Middle Eastern feminist," praising her "courage to open up debates on issues stifled by powerful taboos."
He also commended her writing talent saying that "she encouraged us to see human beings as human beings … all flawed, yet all deserving of respect."
Along the same lines, Khalaf, assistant professor of English and creative writing at the American University of Beirut, said that "her startlingly original writing" reflected "her desire to move hidden or taboo subjects out of the shadows to radically challenge and reshape inflexible mainstream notions."
Ghoussoub's work as a publisher was specially acknowledged by Maggie Gee, a novelist whose book on racism was published by Ghoussoub's Al-Saqi Books, after being rejected by many others in London. "Mai was against censorship and not easily shocked, and she was able to look the truth in the eye," she said.
O'Connor said Al-Saqi Books gave Londoners "a window into Middle Eastern literature, culture, politics and sociology. [It] brought to people in Britain a better understanding of the complexities of Middle Eastern society" and allowed many Middle Eastern writers to reach audiences previously unavailable to them.
Every year on International Women's Day, IWSAW takes the opportunity to highlight Arab women's issues by paying tribute to prominent figures in Lebanon and internationally.