Turning Lebanese
Ninety-three students from across the world participate in this year's annual Arabic language and culture program at LAU.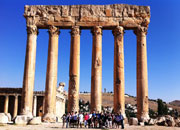 Field trips and cultural lessons are woven into the courses.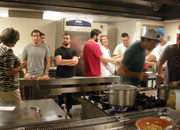 Cooking is the most recent activity that has been added to the program.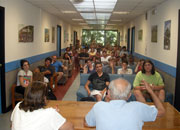 Every Wednesday a renowned figure presents a lecture on a hot social or political topic in the region.
Click on any photo above to view all three images.
It's 10:30 a.m. and the 93 students registered for this year's six-week Summer Institute for Intensive Arabic and Culture (SINARC) program take their 30-minute mid-class break. They crowd around the snack table to see what the caterers have prepared, and are pleased to find manouche. The cheese are always the first to vanish, but who would turn down a zaatar? By 11 a.m., the table is virtually empty.
And so it goes most days: whether it's manouche or croissants or fresh fruit and pain au chocolat, breakfast is devoured with gratitude. But once a week, students grimace at the sight of kanafe—that rubbery, cheesy, sugar-syrup covered thing. It's a tough sell to foreigners.
"For some reason kanafe is not very popular," Dr. Mimi Jeha, SINARC director, announces ruefully into a microphone on that one day of the week, her voice resounding through top-floor corridors of Irwin Hall. "But we have to have it," she continues. "It's a tradition."
Tradition. It's what defines a program that's witnessed its popularity soar since first launching over 12 years ago.
Obviously, students aren't crossing oceans just to eat manouche. And they can take Arabic courses at just about any university. But it's the attention to tradition at SINARC — granted, maybe not kanafe, but the field trips and cultural lessons woven into the courses — that continue to usher in students year after year.
"I chose LAU because it seemed there was a lot more cultural stuff going on," says Lucas Bennett, a student from the United Kingdom. "I wanted the whole package."
Bennett, 24, recently finished law school in London and found a job with the law firm Clifford Chance, which financed his summer Arabic studies. In February, he'll be sent to work from the firm's Dubai office — for Bennett, a rather attractive perk of taking Arabic.
Every summer, SINARC students visit some of Lebanon's most popular tourist destinations — Baalbak, the cedars, Tyre, Byblos. (In previous years, the course has included a brief trip to Syria as well.)
And every Wednesday, a notable figure presents a lecture on a hot social or political topic in the region. Most lectures organized for this summer's program, which began on June 25 and will end August 3, focused on events surrounding the "Arab Spring." One of them that fostered debates and raised real concerns among participants was that conducted by Dr. Fadia Kiwan, head of the Arab Women Organization executive committee - Lebanon, on "Arab feminism: Women's issues in this transitional period."
"It really made the students aware of how alarming the situation is," says Jeha.
But keeping with tradition doesn't mean SINARC shies away from trying new things; on the contrary, the program builds on its successes each year by introducing new elements. A recent activity that appears to have become a regular feature is the cooking course, in which students learn to prepare a number of traditional dishes, including falafel, tabbouleh, hummus and shish tawouk.
The program offers courses in both standard Arabic and Lebanese dialect. Students are placed in one of four standard Arabic, and one of two dialect levels.
The success of the program can be largely attributed to the efforts of the instructors, whose personalities play as big a role as their professional merits in their students' language development.
One of the instructors, Maha Demachkie, invited her 16 students to her home in a sort of spontaneous cultural expedition. Arriving on foot at her luxurious Ras Beirut flat they were warmly received by Demachkie's family members, and treated to various Arabic delicacies and fresh juice. Demachkie then gave her students a tour of her home and asked them to write paragraphs using newly acquired vocabulary.
"The goal is really to help them have a normal conversation when they are out of the class, socializing," says Wafa Kais who teaches colloquial Arabic or amieh. Kais uses nothing less than Lebanese folk songs and dance, movies and poetry as an arsenal to immerse her students in the Lebanese culture. "I want them to understand the culture better and at the end of the day get closer to the Lebanese community," she added.
For Dr. Wafa Abdel-Nour, who teaches advanced Arabic, the challenge is to make the students get rid of the translation process and rather think in Arabic. "The structure of the sentence in Arabic, the logic, has to come naturally," she says.
Abdel-Nour was impressed by the number of  nationalities represented in her class this summer. "It gave birth to very interesting discussions and cultural exchange."
These teaching strategies combined, seem to be effective. 18-year-old Mallory Vaughan from Maryland, U.S., clearly says it, "I think that taking part in SINARC was the best decision I have ever made."
It is August 3, the six weeks have rapidly gone by and it is time for the students to pack. At SINARC, farewells are like no others. As the smell of shawarma fills the corridors, students are getting ready to perform iconic singer Fayrouz's Nassam Alayna el Hawa; they might have just turned a little Lebanese.