LAU med students participate in research to reveal causes of premature birth
Even before LAU's Medical School officially opens, two incoming students have been taking part in a research-training program at the University of Iowa.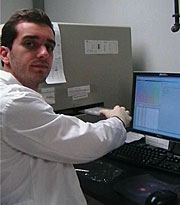 Jad al-Danaf reading genotyping results at University of Iowa lab.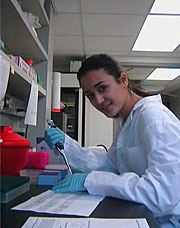 Rim Halaby preparing DNA sequencing plates.
Could two LAU Medical School students currently taking part in a research-training program at the University of Iowa uncover the causes of premature birth, a mystery that has long kept medical researchers scratching their heads?

It does not seem likely, at least not within the summer program's two-month duration, but that fact is not discouraging Rim Halaby and Jad al-Danaf from making their contributions to an ongoing project at UI to examine the genetic and environmental causes of preterm birth.

"This is a huge project that has been [going on] for years, so our work here for two months will not cause tremendous changes," Halaby says. "But our participation is still helpful since we are working in the middle stages of the project."

The students were given the task of studying several genes samples to determine if a correlation exists between certain genotypes and premature birth.

Just 20 years old, both Halaby and al-Danaf will be among the first students to enroll in LAU's newly established Gilbert and Rose-Marie Chagoury School of Medicine, which opens its doors this fall.

They began the training program on July 1 and are expected to return to Lebanon just a few days before their Doctor of Medicine classes start on September 1.

According to Dr. Pierre Zalloua, LAUMS assistant dean for Research who organized the deal, offering students opportunities to conduct research underlines a crucial aspect of their education and training.

"Even before our medical school officially opened, we decided to get students involved in research and training in order to develop skills that would help prepare them for their academic and professional futures," Zalloua says.

"I think it demonstrates the commitment we have to our students and reflects the core values of our new medical school," he adds.

In addition to the hands-on research in the lab, the two students are also enrolled in online courses and participate in seminars, conferences and presentations related to their research.

"My experience here is beneficial and astonishing since I finally comprehend the crucial link between research and medicine which [changed] my view of both," al-Danaf says.

In addition to the technical training the students are receiving, they say the program includes social and cultural benefits as well, namely the exposure to a diverse work environment.

Halaby and al-Danaf are working alongside a large team that includes undergraduate, graduate and postdoctoral researchers in the lab — some have traveled to Iowa from various countries including Argentina, Brazil, Jordan and Romania.

One of the most critical points stressed during the training, al-Danaf says, is that "a patient is a human being, and creating a safe and sound bond with a patient ought to be vital in any doctor's career."

This principle is consistent with LAU's new medical school's stated mission to train a new type of doctor, one who believes "deeply that a physician is, above all, a merciful healer."