UDesign, where LAU innovative students speak
Once again, Fransabank commissions LAU architecture students to create one of its corporate gifts.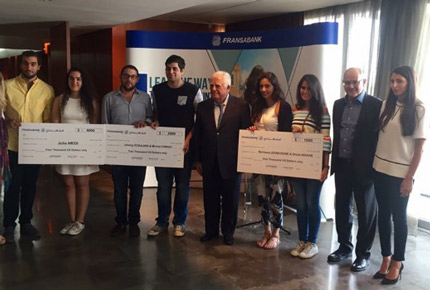 For the second consecutive year, the "UDesign" competition launched by Fransabank, a leading financial group serving a top-notch clientele, has entrusted LAU students with creating an original design that embodies its corporate identity. The winning product is destined to be mass-produced as a Christmas gift.
The 2016 winners, recently announced at the Fransabank headquarters in Beirut, were Julia Aridi and Samer Awad, who presented an innovative office stapler. "We wanted to eliminate the struggles that a businessman faces in his everyday life," says Awad, who just concluded his second year of architecture at LAU.
Instead of puncturing the paper―which makes it hard to photocopy single sheets or bind together large piles of documents―the stapler created by the two students allows for an efficient, removable and eco-friendly way of keeping papers together.
"The design itself had to embody the corporate character of Fransabank, a futuristic and trustworthy financial group," says Aridi, also a second year architecture student. "We therefore decided to make our product transparent so that its action is visible to the user."
Raida Daouk, strategic coordinator at Fransabank, says the group was very pleased with the outcome of the competition. "We gave them no specific theme. We wanted to see what students could come up with if given total freedom," says Daouk. "As a company, we are keen on promoting young talents and we are delighted to do that by means of this competition."
The winners received a sponsorship of $4,000 to continue developing their idea, as well as the support of Fransabank's designers. "I am excited to have the chance to see the full process of creating a product, from design to manufacturing," says Awad, "as we don't often have the opportunity to go beyond the theoretical part of the creation process."
The projects were evaluated by a commission of professionals, including Lebanese furniture designer Nada Debs, renowned for her unique Eastern-inspired creations. "The students tried to think conceptually about the needs of the banking sector and to apply some new ideas to create unique products," she said. "The stapler was the winning project because it was both functional and visually pleasing."
According to Ghida Geha, LAU professor at the School of Architecture and Design and coordinator of the competition, uniting students from different fields―architecture, interior design, graphic design and fashion design―created a unique synergy. The competition also offered participants a good opportunity to show their added value. "Those who took part will be able to put this experience on their CVs to prove that they are capable of coming up with original ideas, which is considered a big plus by any employer."