USAID donates to LAU's financial aid program
USAID presented a check worth $1.229 million to support the university's financial aid students.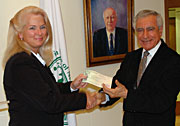 Denise Herbol, USAID's Lebanon mission director, presents the check to LAU President Joseph Jabbra.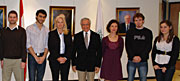 Group photo of Herbol, LAU officers, and financial aid students.

Denise Herbol, USAID's Lebanon mission director, presented a check worth $1.229 million to LAU President Joseph Jabbra on March 6. The sum is to be donated to the university's financial aid fund.

Presently, 1,700 LAU students benefit from financial aid, about half of them thanks to USAID funding, according to LAU's Financial Aid Office.

In a ceremony held on the Beirut campus, Dr. Jabbra, along with several deans, department heads, and financial aid students, listened intently as Herbol discussed USAID's several initiatives throughout the region.

"Our plan is to donate a significant amount to further the educational sector," Herbol said.

Jabbra thanked the organization and extended his gratitude to the "American people, who never cease to be generous."

LAU is one of several Middle Eastern schools and universities that have been receiving donations from USAID. To LAU in particular, the organization has given $1.6 million last year alone.

"Traditionally this program has been an earmark out of Congress and the American people to provide financial scholarship support to the American educational institutions in Lebanon," Herbol said. The aim is to provide students the opportunity to attend schools and broaden their minds, she added.

To qualify for such assistance, students must be Lebanese nationals and of excellent academic standing.

USAID is "very insistent that the money goes to needy Lebanese from across Lebanon," said Dr. Elise Salem, vice president for Student Development and Enrollment Management.

"Financial aid gave me the opportunity to go to LAU. Or else, I wouldn't have been able to afford it," said graphic design student Jesper Ramadan, who benefits from a partial USAID grant.

Marketing student Dima Haddad agreed, saying that financial aid had encouraged her to stay enrolled at the university.

Although USAID's budget is primarily allocated to education, other projects have been receiving its support. The organization's initiatives cover more than 50 nations across Asia and the Near East.

USAID's main objective in Lebanon is to revitalize the local economy and support community life, according to the organization's website.

Herbol described USAID's plan to support various ventures such as helping develop olive oil production in South Lebanon, to increase its international market share.

According to her, the organization is currently developing its 2009–2013 strategic plan.