Versatility and refinement at end-of-year graphic design exhibits
In pictures — Dozens of graduating graphic design students display their final-year projects in Byblos and Beirut.
In pictures —
The annual end-of-year graphic design exhibitions brought together dozens of graduating students to show off their final-year print and digital-media projects, from May 31-June 3 and June 3-10 at the Byblos and Beirut campuses, respectively. Like every year, each exhibit featured a theme.
It was the first end-of-year exhibition organized by the School of Architecture and Design which opened its doors in fall 2009, combining all architecture and design programs previously offered by the School of Engineering and Architecture, and the School of Arts and Sciences.
Byblos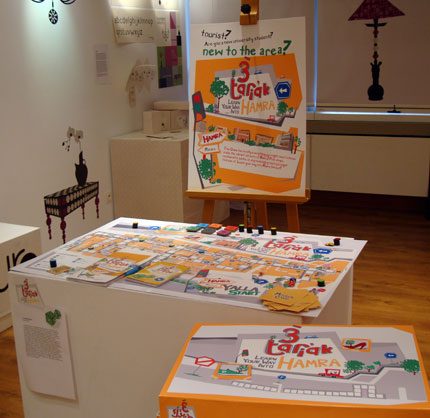 In Byblos, the exhibition was called "Echo10." Organizers Tarek Khoury, co-chair of the Graphic Design Department, and Melissa Plourde Khoury, graphic design assistant professor, say they aimed to challenge student designers to consider the impact of their work on culture and society, keeping in mind that their designs — no matter how seemingly trivial — always have repercussions.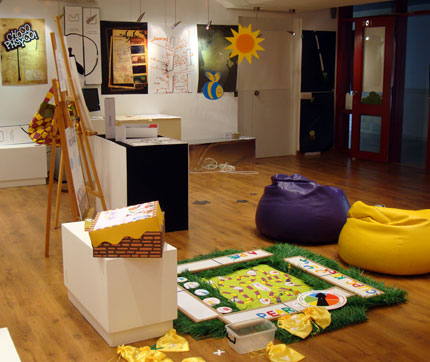 On the floor of the Rima Hourani Exhibition Room in Byblos is a board game designed to help dyslexic children learn to read and spell. The idea came about when the designer's friend, who teaches dyslexic children, complained that there was no fun way to teach the children.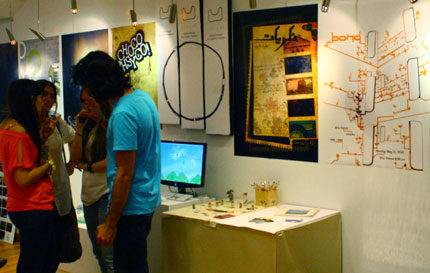 Nearly every inch of the exhibition room's walls and floor were dedicated to the print-media students, who numbered 17. The 12 digital-media students ran their projects — including websites, interactive media, and movies— on a computer stationed under posters of their designs.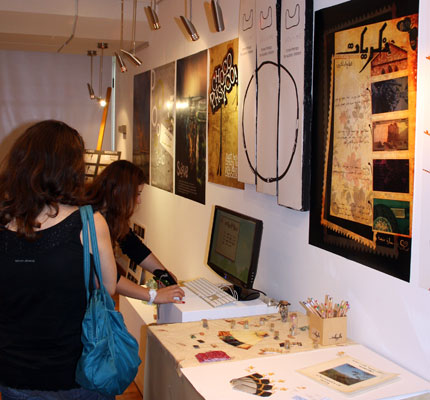 Digital-media students were required to complete a poster, and either an interactive CD, movie or website.
One student created a short movie about the benefits of horse therapy for children as a means of building confidence. Another student created an interactive CD that teaches children about safety. Among the most popular projects was a website that shows the relationship between people's personality and their favorite chocolate.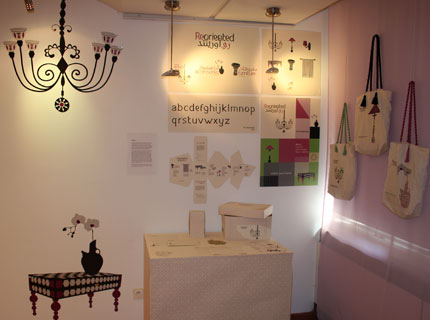 Plourde Khoury explains that the print-media projects had to include a poster, visual identity, a package, a promotional item and a publication. One of these elements was featured as the main piece.
Here, a student designed a store that takes traditional Middle Eastern products and turns them into new items.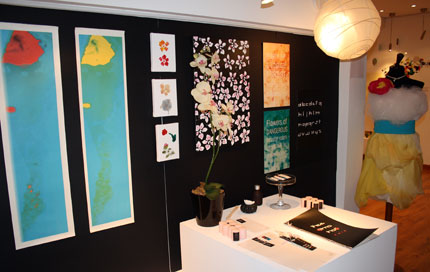 Another student designed a store that sells modern-looking clothing derived from the kimono, the traditional Japanese dress.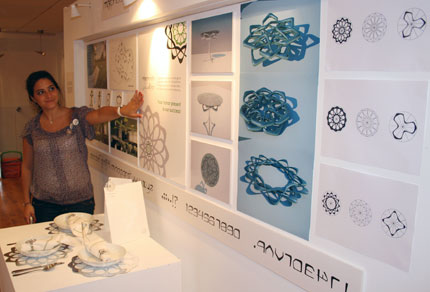 Student Mira Yassin shows the brand identity she created for Middle Eastern restaurants. She took traditional Islamic motifs and modernized them using 3D imagery for use on place mats, tables, and dining ware.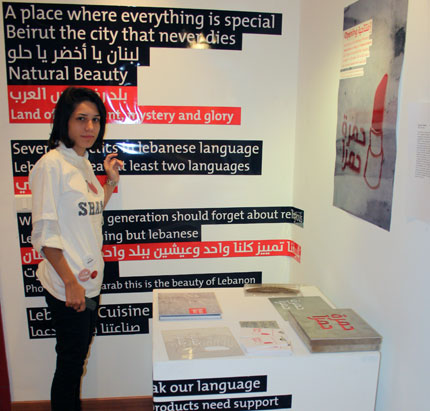 Determined to challenge traditional notions of Lebanese identity, student Iffat Hamdan visited Hamra Street in Beirut, where she posted questions about identity on walls throughout the area and came back later to discover a variety of responses.
 
Beirut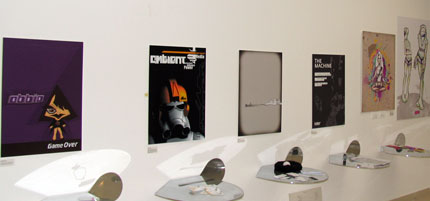 In Beirut, the exhibition was named "Propel." As Graphic Design Department Chair Randa Abdel Baki describes, the theme was about the progression and evolution of the times, particularly signified at LAU by the establishment of the School of Architecture and Design.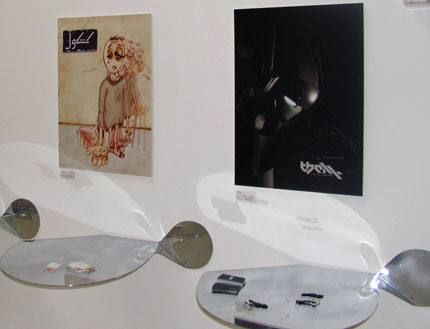 Like each year, projects on both campuses were judged in a single competition for best design. Students Sami Kiwan and Ghaith Fleifel, both from the Beirut campus, won the competition this year, and won iPods nano.
Kiwan, a digital-media student, who last year won a logo competition for TV talent scout program Studio El Fan, produced a short film (right poster in the above photo) about aliens that invade Beirut. "I have always been obsessed with aliens since I was a child," Kiwan explains. "The movie is a small wake-up call for people to remember that there may be other beings outside our world with their own environments that one day may reach Earth."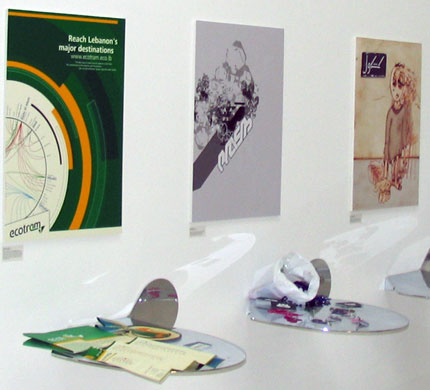 Fleifel, a print-media student, designed a concept tram system (1st project from left in the above photo) for Beirut, as a solution to the city's heavy traffic congestion and pollution.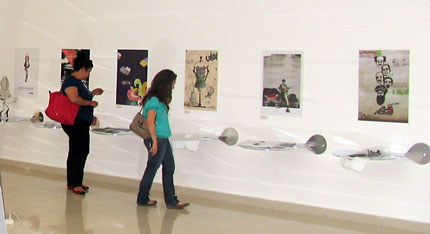 "The winners were chosen not only based on the quality of their projects, but also based on their participation and effort in their courses throughout the years," Abdel Baki explains.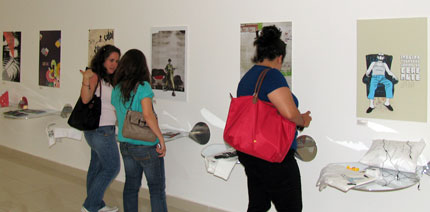 Aside from Fleifel's tram project which brought to the table the issue of sustainability, Abdel Baki explains that many other students attempted to shed light on social issues. A project by Maher Bayomi looked at the destructive process of stone mining and tried to develop a more ecological system of extraction. Some projects dealt with women's abuse and illiteracy. Others looked at recycling and the importance of conserving water and energy.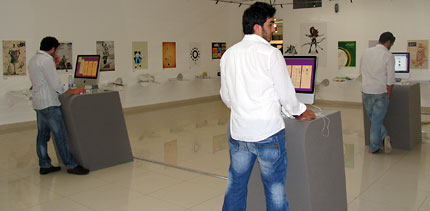 Like in Byblos, computers were set up for digital-media students to show off their projects.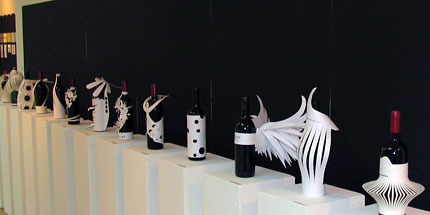 Unlike in Byblos, the Beirut exhibition also featured projects from non-graduating students, which were displayed outside the main hall, because of the space restrictions. These projects were created by packing-design students.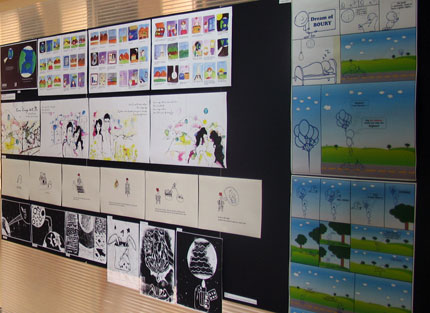 "I was very happy with the works," Abdel Baki says. "They were versatile, and applied with refinement."