Wired for the future
Major international researchers discuss the horizons of electrical and electronic engineering at 18th annual IEEE conference, hosted by LAU at Beirut's Crowne Plaza.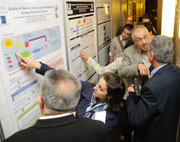 A group of electronic engineers discuss their papers during the 18th annual ICECS at Beirut's Crowne Plaza hotel.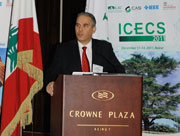 Conference Chair Dr. Haidar Harmanani, professor of computer science and assistant dean of the School of Arts and Sciences, addresses the crowd during the opening ceremony.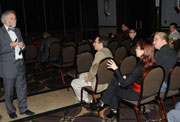 Keynote speaker Dr. Bernard Courtois, director of Multi-Project Circuits (CMP) in France, takes a question from one of the participants.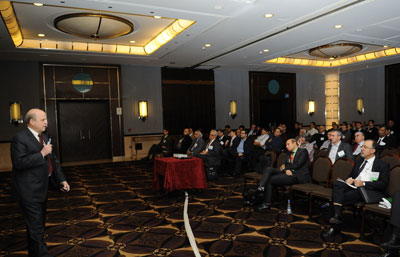 Dr. Walden Rhines, CEO of conference sponsor Mentor Graphics, gives the opening keynote address.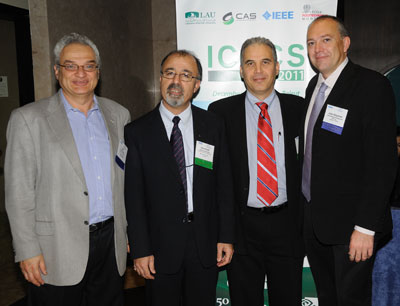 From left to right: Technical Program Co-Chair Dr. Fadi Kurdahi, Conference Co-Chair Dr. Mohamad Sawan, Dr. Harmanani, and Technical Program Co-Chair Dr. Jean-Baptiste Begueret.
Click on any photo above to view all five images.
From December 11-14, LAU hosted the eighteenth International Conference on Electronics, Circuits, and Systems (ICECS), sponsored by the Institute for Electrical and Electronic Engineers (IEEE). More than 250 electronic engineers from 42 countries attended the conference, which culminated three years of preparation.
Following a rigorous selection process, half of this year's 400 applicants were invited to present their papers at the event, which took place over four days at the Crowne Plaza on Hamra Street.
Conference Chair Dr. Haidar Harmanani, professor of computer science and assistant dean of the School of Arts and Sciences, said this year's conference included an unprecedented number of keynote speeches, panel discussions, and tutorials, and aimed to stimulate constructive debate by proposing an array of "visions for the future" of the field.
Electronic engineering is indeed in a growth phase. It may seem a rarefied field of research but its subject permeates modern life, from cell phones to microwaves, medical images to biometric passports, underpinning our systems not only of telecommunications and digital entertainment but also those of energy and health care.
"Electronic engineering is a rising, still relatively new field with an accelerating turnover of new research," says Technical Program Chair Dr. Fadi Kurdahi, professor of electrical engineering and computer science at the University of California, Irvine. "For that reason, many papers are published at conferences rather than in journals."
A session on nano-based systems served to confirm Kurdahi's point about the field's cutting edge Cellphones, MP3 players, and computers are ever more densely packed with functions powered by silicon transistors. The average laptop now contains more than 50 million transistors, each around 100 nanometers in length. Soon, however, the silicon transistor will reach its lower size limit, thwarting the industry's drive to create smaller, faster systems.
Nanotechnology could overcome this impasse, superseding silicon with microscopic molecular devices that could transform electronics. Conference Chair Dr. Mohamad Sawan of the University of Montreal predicted that a terabyte hard drive the size of an apple seed will appear within the next five years.
Several presentations addressed environmental concerns. A keynote speech by Dr. Bernard Courtois, director of Multi-Project Circuits (CMP) in France, outlined new methods of reducing energy consumption with low-power electronic devices. Professor Andreas G. Andreou of Johns Hopkins University noted that production of a single microchip consumes 40 kilograms of water and produces four kilograms of waste.
Adreou predicts that implantable microchips will be integral to health care in coming decades, facilitating diagnosis, drug administration, and patient monitoring.
Sawan's work exemplifies Adreou's prediction. As the Canada Research Chair on Smart Medical Devices, Sawan is advancing real-time diagnostic tools by circulating blood and cells through microchips, as well as developing "brain machines."
"Through CT and MRI scanners have furthered our knowledge of the brain, we have yet to discover precisely how human vision happens, or how an idea is formed," he says.
Sawan hopes to decipher neurotransmitter connections that cause diseases like Parkinson's and Alzheimer's, and then to create implantable microelectronic devices that directly connect to the neurosystem, allowing experts to monitor the brain and wirelessly modify the implanted device to optimize treatment.
Middle East-based electronic engineers contributed over 17 percent of papers presented at the conference, which also attracted numerous Arab expatriates. Hazem El Tahawy, managing director of Mentor Graphics Egypt, expressed satisfaction with this turnout, stressing the importance of developing a regional electronics industry structure to support emerging local talent.
The conference offered LAU students a unique opportunity to interact with international industry professionals.
"This exposure to different perspectives on such a wide range of topics will help me to narrow my focus on when I begin my own research," said Fouad Kada, an electronic engineering graduate student at LAU Byblos.
Alluding to LAU's recent string of ABET accreditations in engineering and computer science, Harmanani said, "this conference takes it to the next level by shifting the focus from teaching to advanced research."
Luiz Santos of the University of Santa Catalina in Brazil commented on the conference's organization and dynamic atmosphere. "People are interacting a lot in small sessions, which really fulfills the goal of establishing international connections," he said.
Next year's ICECS will be held in Seville, Spain.