With LAU's CEP, learning never ends
The university's Continuing Education Program graduates working professionals seeking to boost their skillsets.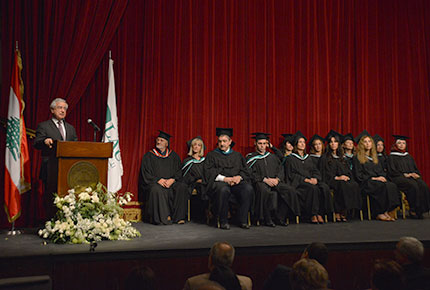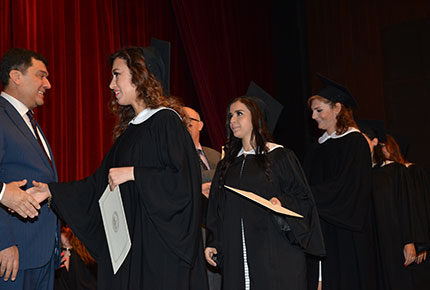 On July 31, professionals from a variety of fields received the distinguished Continuing Education Program (CEP) certificate, which attests to their participation in training programs tailored to match the latest job market requirements.
"Today we are gathered here to celebrate your achievement," said LAU President Joseph G. Jabbra, addressing the CEP graduates. "But this day would never have been possible without your sacrifices," he added, referring to the hardships of combining work with the pursuit of further education.
With more than 25 years experience in professional enhancement, CEP today counts over 45 programs — more than 400 modules — covering, among others, business, design, fitness and languages.
"The number of students tripled since last year, going from 150 to more than 600," says CEP Director Michel Majdalani, attributing this noticeable growth to the introduction of new courses as well as to the revamping of old ones. "We are always on the lookout for the latest demands of today's market, and the tremendous recognition our programs receive from employers is proof of this," he says.
Among the new courses, the one on Food Safety seeks to alleviate the lack of professionals in the region by offering the first training program recognized by the Ministry of Industry, the Syndicate of Lebanese Food Industrialists and the General Union of Arab Chambers.
CEP's new course in English for Lawyers has also been a great success, attracting both students and professionals eager to integrate into the increasingly English-speaking international environment.
"This course gave me the necessary qualification to be accepted in master's programs abroad," says Rena Hassanieh, who is currently finishing her law studies at the Islamic University of Lebanon with the objective of one day becoming a judge. "I studied law in Arabic only, but this is not enough — it is fundamental in our job to be proficient in the English legal language."
Accompanied by her daughter, another CEP student, Claude Nakouzi, proudly holds her certificate in Municipality Administration and Finance. "This was an excellent experience, but the best part is that it does not end here," she says. "We will apply what we have learned in our work from now on and have better career prospects."
Mohamad El Hout, general manager of Middle East Airlines, was among the distinguished speakers hosted by the ceremony. In his speech, he remembered the day his assistant announced that she would enroll in LAU's CEP with the ambition to one day become the director of his office. "After what I saw and heard … today, I say to you that my assistant can be the director of the office," he told the audience, bringing yet another one of CEP's graduates to the accomplishment of their goals.